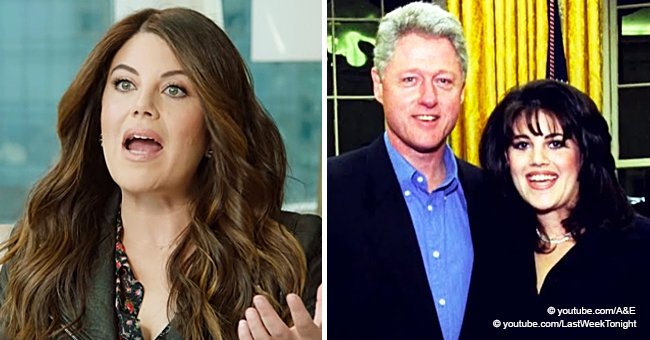 Monica Lewinski Opens up about 'Avalanche of Pain' Following Her Affair with Bill Clinton
Monica Lewinsky spoke openly in an interview with John Oliver about "the avalanche of pain and humiliation" she experienced about his affair with then-President Bill Clinton.
Lewinsky was just 21 years old when she graduated from university in Los Angeles and began working at the White House as an unpaid intern in July 1995.
According to her account, between August and October of that year, she and Clinton shared a series of "flirty encounters". However, it was during the closure of the federal government in November that things intensified.
What happened after we all know it; Clinton publicly denied the accusations when the story was revealed about her relationship with the young intern and simply stated: "I did not have sex with that woman, Miss Lewinsky."
However, on December 19, 1998, the House voted to impeach Clinton for lying under oath to a federal grand jury and obstructing justice. The president's credibility had been shattered and even then on February 12, 1999, the Senate acquitted Clinton, who would finish his term.
During the interview, Oliver started the conversation by asking Lewinsky if she considers that the harassment has worsened over the years.
"I think that with the advent of the internet, and of course social media, we now have situations where it's exasperated beyond what anybody could have imagined," said Lewinsky, who has participated in many initiatives to stop online bullying.
The HBO host asked Lewinsky if she thinks that public embarrassment could have positive effects in many cases, such as forcing the ashamed person to acknowledge his flaws.
Lewinsky replied: "I do think there's a spectrum of behavior on which we can sort of judge, as a society, 'Is this where shaming is effective to change social behavior, or is it damaging?'"
Referring to her own experience, she continued, "it was a shitstorm. It was an avalanche of pain and humiliation, and, obviously, I could not have gotten through it without my family, and, eventually, when I was allowed to talk to my friends, my friends, too... At 24 years old, it was really hard to hold on to a shred of dignity or self-esteem when [I was] just the butt of so many jokes and being misunderstood."
Lewinsky acknowledged that she also made mistakes about the scandal, which made Oliver realize that, while that may be true, one must also bear in mind that she was only 21 years old when the adventure began, while Clinton was 49 years old.
Lewinsky recalled that during those moments it was unreal to see her identity deconstructed and reconstructed before her eyes while the scandal consumed the media, and her reputation affected her ability to get a job.
She decided not to hide her identity when applying for jobs, because she did not want to start her professional relationships with a lie, she said, and also, "Bill Clinton did not have to change his name." Nobody has ever asked him: "You thought you should change your first name?" So why should she be the one hiding under the rocks?
In a similar story, Stormy Daniels', 39, real name Stephanie Clifford, alleged sexual encounter with President Donald Trump occurred months after his wife, Melania Trump, gave birth to their son. She shared more about that day in 2006.
Trump's alleged affair with the adult film star has been in the news for some time after the guilty plea from his former lawyer, Michael Cohen. In his plea, Cohen admitted to paying off Daniels in the weeks before the 2016 election to keep quiet about her affair allegations
Please fill in your e-mail so we can share with you our top stories!