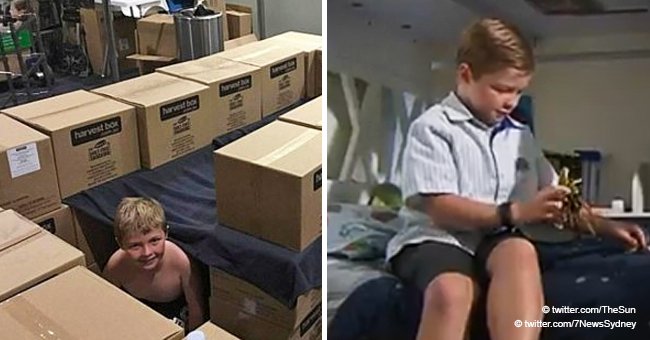 Mom Outraged at Son Being Forced to Sleep in Cardboard Box at Airport While Flying Unaccompanied

The mother of a nine-year-old boy was horrified when she found out her son slept in a cardboard box in an airport function room overnight after his flight got grounded due to storms.
Underaged John Meredith was on board a Virgin Australia flight from Brisbane to Sydney when thunderstorms forced the pilot to divert and land in Melbourne on March 14.
The nine-year-old, who was unaccompanied on the flight to see his grandparents in North Sydney, found himself stuck at Tullamarine Airport in Melbourne along with two other children in the same situation.
"We paid extra money, quite a bit actually, to ensure John was supervised by a flight attendant on the flight once it left Brisbane," John's mother, Katie said.
Katie tracked the flight via a tracking app and got concerned when the flight vanished off the grid around the Singleton area.
No one contacted her regarding the grounding of the plane and she later saw that the plane got diverted to Melbourne and added:
"Let's not forget we are talking about a nine-year-old boy, who last month had a heart operation. I would never agree to have him sleep on the floor at an airport. His godmother lives in Melbourne, she would have picked him up if I had the opportunity to know he wasn't going to a hotel."
A Virgin Australia representative did call John's grandmother, as she was listed as his guardian, to notify her that the plane grounded safely.
Shortly after midnight, the airline called again to assure her that John had something to eat after they got him and the other two children McDonald's.
Close to 3 am, John's grandmother received a text confirming that he'd been booked on a 10 am flight later that morning, but got no reply when she enquired about which hotel he stayed in.
Neither John's parents nor his grandparents knew at this point that he had spent the night sleeping in a cardboard box in an Airport function room.
"I felt kind of scared," John said. "Who am I going to be staying with? Where am I going to go? And I'm not going to be with a family member?"
The airline representative admitted that the grandmother's inquiry about John's sleeping situation "regretfully wasn't responded to by our team," and apologized:
"In this instance, our ground crew supervised the child and made him as comfortable as possible in a room in our Melbourne Airport Lounge ahead of his flight the following morning. We apologize for any breakdown in communication between our team and the child's guardian during the course of the evening."
According to the spokesperson for Virgin Australia, staging of the Grand Prix at Albert Park made for "no available accommodation" at such late notice.
The airline did launch an internal investigation into the airline's failure to properly communicate the unforeseen circumstances to John's parents.
Airports make for many stories, and nine-year-old John surely has one to tell for many years to come, but so does a five-year-old girl that got left at Stuttgart Airport by her parents after they returned from a European vacation.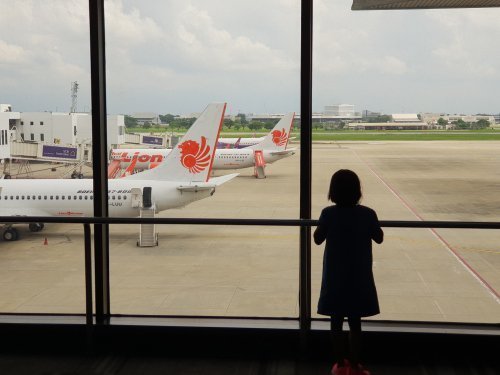 Little girl staring out of an airport window. | Source: Shutterstock
Prior to going on vacation, the girl's parents arrived at the airport in separate vehicles. On their way home, each parent thought their daughter was in the vehicle with the other parent.
Once home, the parents realized they left their daughter at one of the busiest airports in Germany. In the meantime, the staff at the airport had contacted authorities when they saw the little girl wandering around the airport, and took her to the police station where her father picked her up soon after.
Having your child get lost in a crowded place can be scary, both for you and your child, but one beachgoer devised a clever plan on how to help a mother search for her child when he went missing on a busy beach.
Please fill in your e-mail so we can share with you our top stories!