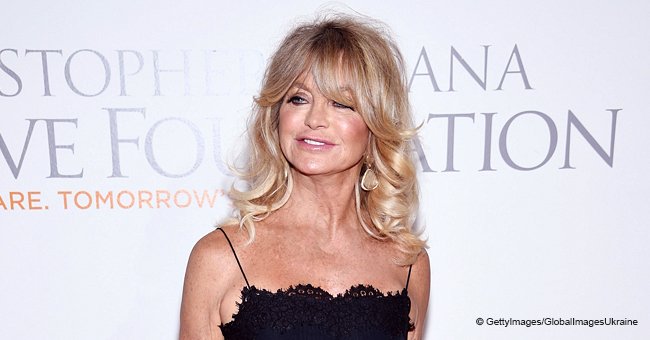 Meet Goldie Hawn's First Son Oliver, a Handsome Actor Who Nearly Died at 1-Day-Old
Actor Oliver Hudson was a big 11-pound baby born in 1976 to his Academy Award-winning mom, Goldie Hawn, but the joy of his arrival was threatened when his parents almost lost him due to birth complications.
Goldie Hawn recalled the birth of her beautiful baby boy who at just a day-and-a-half old was placed under intensive care, and how the power of prayer that made him live.
"I don't think there's any question that prayer can work."
Hawn who was suffering from toxemia, herself, managed to visit her newborn son in the ICU, shared,
"I'm a very spiritual person. I'm not a religious person, although I was raised Jewish and I like my tribe and where I came from, but that was a beautiful thing. It was phenomenal. I just emptied myself. I don't know how to explain it, but I got very calm, and I put my hand on his heart."
It was after she prayed the words, "Come through me, use me to heal my son," that the miracle happened. Oliver's heart rate went up, and he pulled through.
After her divorce from Bill Hudson, Goldie raised Oliver and his sister Kate with her partner Kurt Russell in a loving and happy home. Soon Hawn and Russell added to the brood with the birth of Wyatt.
Together they made many happy memories together from fun Halloween traditions to the unique ways their parents disciplined them. Oliver fondly recounts on the Jimmy Kimmel show, the time he got punished for shooting paintball guns at adults, who called the cops on the young Hudson and his friends.
After Russell was called by the police to sort out the situation with his son at the station, he chose an unusual, and now funny, punishment. Oliver was ordered to shoot at his own car at close range with the paintball gun, basically ruining it with dents, and then he was to drive it as is "for the rest of however long you own" it.
Oliver's famous sister, Kate Hudson, also has many kind words to say about her parents, especially her mother.
She posted this loving message on her mom's birthday with the caption,
"Fearless leader, my number one, my heart, my love, my joy, my everything, MY MAMA! Happy happy happy birthday!"
Please fill in your e-mail so we can share with you our top stories!