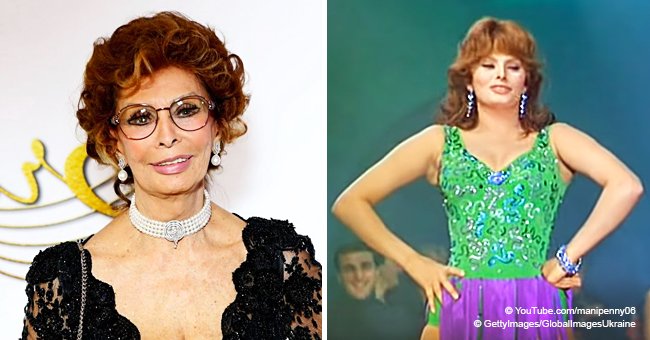 Sophia Loren Famously Sang a Hit Song 'Americano' and It's Breathtaking
Born Sofia Villani Scicolone to a father of noble descent, the multi-awarded Italian actress better known as Sophia Loren, has a sexy singing voice that didn't go unnoticed.
Sophia Loren has serious talent. Her career, which spans over six decades, began with an extra part in the film "Quo Vadis". Named as one of Italy's most beautiful women, her looks often eclipsed her exceptional acting skills.
However, it was through meeting Carlo Ponti that she grew by leaps and bounds as an artist and woman. Ponti was already married when he met Sophia, so they tried their best to keep their relationship professional. But the attraction was undeniable and soon the couple found a way to end up married.
Sophia spoke of their young relationship,
"I was content to be lucky enough to finally have someone by my side me who knew how to speak to me, who could give me advice, who supported me in the parts I chose, which is crucial when an actor is just starting out."
Ponti helped put her on the map by giving her opportunities to star in Hollywood films with superstars like Cary Grant, William Holden, Clark Gable, and many more. In no time, she was collecting awards for all her hard work and passion.
Their love grew even deeper with time, and she needed him in her life more than ever saying,
"He gave me a rootedness and stability that kept me grounded, while the world around me seemed to swirl dizzyingly, excitingly."
She starred in a movie called "It Started in Naples" in 1960 playing the character Lucia Curcio. And it was in this film that she performed in a musical number the song, "Tu vuò fà l'americano" by Renato Carosone. It showcased her singing voice and dancing skills leaving audiences in admiration.
Today at 84-years-old, she continues to wow her fans with her ageless beauty and grace. She still keeps an active career.
Recently seen at the naming ceremony of a luxury cruise liner, the mother-of-two grown sons and grandmother-of-four, dazzled the crowd in her signature glamour.
Please fill in your e-mail so we can share with you our top stories!