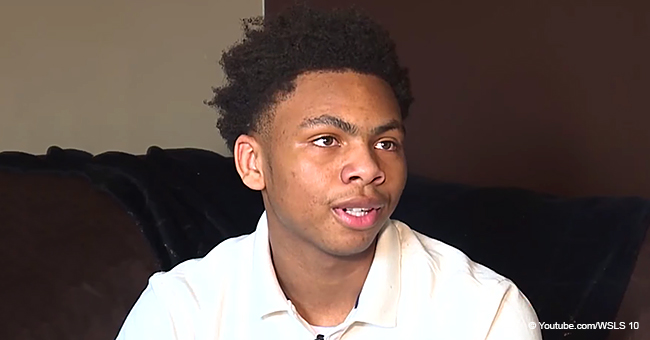 Detroit High School Senior Gets Accepted into 41 Colleges, Offered $300K in Scholarship Money

A High School senior in Detroit is now making headlines after getting accepted by 41 colleges with several offers of financial assistance, but the journey to where he is today wasn't all smooth.
Michael Love, a senior at Cornerstone Health and Technology High School, is faced with the difficult task of choosing which college to attend, but the young man initially struggled academically.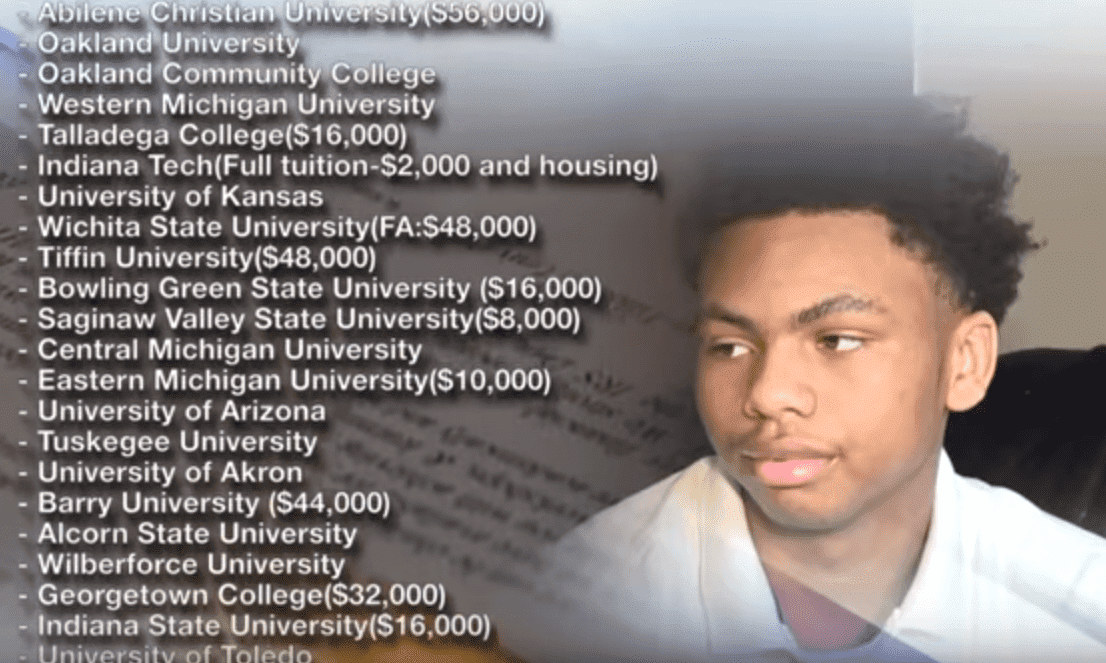 Screenshot of Michael Love and info of some of the acceptances. | Photo: YouTube/WXYZ-TV Detroit | Channel 7
PROVING PEOPLE WRONG
"I got told a lot when I was younger, 'I couldn't do this; I couldn't do that' so I just wanted to show people that I'm better than what they think I am," Love told WXYZ-TV.
He took that determination and eventually made a success story of himself. When Love told his mother, Michole Ewing, that he was applying to over 50 colleges, she thought it was outrageous.
"I thought he was crazy when he told me he was applying to so many schools."
APPLYING AGAINST ALL ODDS
Sending in the applications was no joke either, but Love's determination and hard work made it possible. His high school was able to waive the acceptance fees for most of Love's prospective schools, but he still had to make the time to send in all the applications.
The Senior belongs to the National Honor Society, plays varsity basketball, and also has an after-school job, but that didn't stop him.
Love's hard work paid off when the acceptance letters started rolling in from institutions all over the country.
HARD WORK PAYS
"Every time I open up a letter, I jumped up and down, we praised God and everything. I'm super proud of him," said Ewing.
Not only did most of the school accept Love, but many of them are also offering financial assistance. "Over $300,000 in scholarship money as of right now," he revealed.
One of the acceptance letters even came with a full ride offer that made Love's mom emotional.
"Once he told me, my mouth just dropped. I just started crying."
Love intends to become an aerospace engineer and will be making his choice on where to study very soon.
ANOTHER COLLEGE ACCEPTANCE SUCCESS STORY
Love's achievement echoes that of Kayla Willis, another high school senior in Georgia who went viral after getting accepted by over 20 colleges and receiving close to a million dollars in scholarships.
Willis caused a stir on Twitter after sharing a picture of her college acceptances taking up quite a lot of space on the school wall. The response was overwhelming, and from many of the comments, the young lady seemed to have achieved her goal in putting up the photo.
"I wanted to inspire people and show them that you can actually dream big and get to where you want to go," Willis said.
Please fill in your e-mail so we can share with you our top stories!