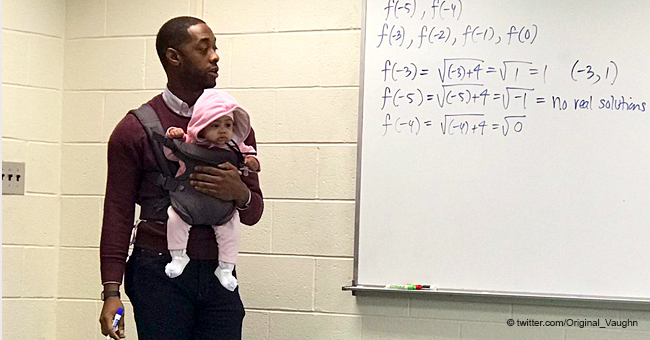 Student Brought His Child to Class Because He had No Babysitter, but His Professor Lent a Hand
Wayne Hayer, a student of Morehouse College, brought his child to class after a futile attempt at finding a babysitter. His professor, Nathan Alexander decided to give him a helping hand with his baby girl.
Wayne Hayer, a senior college student at Morehouse College, had no other choice than to bring Assata, his five-month-old daughter to his lecture room with him.
Wayne initially had no plans to bring his newly-born daughter to his classroom but had no choice when his plans to get a babysitter fell through.
When his plans had failed, he remembered that his Mathematics professor said that he could bring his child to class, although he had no plans to hold Nathan to his word. The twenty-six-year-old father also remembered stories of other parents who brought their kids to their classes.
Even at this, he was still "apprehensive," because he had never seen a Morehouse college student bring a child to class, he said in an interview with "The Washington Post".
Wayne finally decided to be courageous and took his baby to class, seeing that he had no other option at the moment. His wife already planned to pick up Assata's birth certificate, and he didn't want her to worry about the baby at the same time.
He rolled the adorable bundle of joy in a pink sweater with a cap and also packed her blanket into a backpack. He was finally set to leave his apartment on the west side and head straight to class.
Wayne narrated how he felt when he had reached his classroom door. He was wearing his bag and had a baby on his chest. "I looked crazy," he said. Dr. Alexander then saw him and welcomed him warmly.
The friendly professor wasted no time in offering a hand with the baby so that his student could "take good notes." Nathan quickly strapped the calm baby to his chest and carried on with his lecture.
In a short while, the fantastic gesture from the thirty-four-year-old academician went viral. Nick Vaughn, a fellow student of the all-men college, took to Twitter and Facebook and shared the beautiful story he had witnessed. Different supportive comments were released in that regard and soon, everyone was talking about it.
During an interactive session, Nathan revealed that the ultimate goal of the school is to instill leadership in the students. He also described Wayne as a model of leadership and the situation as a "moment of redirecting."
Please fill in your e-mail so we can share with you our top stories!