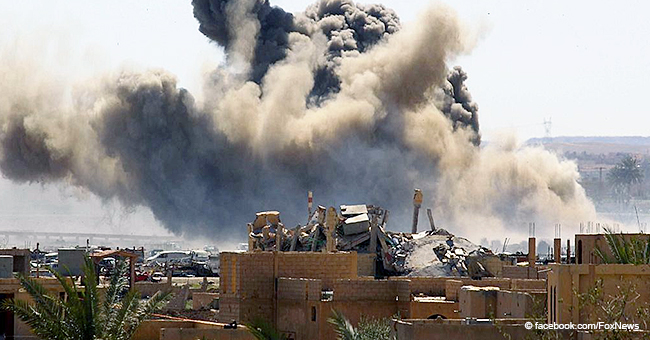 ISIS Caliphate Has Reportedly Collapsed and Final Stronghold Is Allegedly Liberated
In 2016, when Donald Trump was elected to become president, the terrorist group, ISIS, was considered one of the gravest threats to the future of the Middle East. They were also a threat to peace and security in the free world.
The territory that they had captured was across 20,000 square miles from Iraq to Syria. However, on Thursday, the president revealed that their stronghold had finally been broken.
On January 20, 2017, Donald Trump was sworn in as the president of the United States and that day marked the beginning of the end for the ISIS caliphate. On Thursday, Trump had a press conference where he shared the progress on the fight against the terrorist group.
The president revealed that ISIS had been literally obliterated off the map. While holding a map Trump demonstrated saying, "This is ISIS on Election Day," pointing to red areas that were highlighted.
Gesturing to the bottom part of the map which had only one small red dot, the president proudly stated: "And this is ISIS now." For five days Syria hasn't had bombs dropped and the gunfire has also ceased.
The ISIS caliphate empire once ruled over 8 million people. Reports state that US military troops were bringing down the black flags of ISIS, releasing people from fear.
Over the week, US-backed SDF forces have been attacking ISIS from three sides in a major up close offensive. The opposition was pushed back against the Euphrates River.
The majority of the opposition was forced to surrender. Since the beginning of the year, about 60,000 of them have retreated into the desert with most of them now being held in camps.
ISIS has held the territory for four-and-a-half years. SDF fighters have expressed their gratefulness to the US for the assistance and for leaving the troops there when it's done.
It's believed that around 1,000 troops will be staying behind.
Hoda Muthana, 24, is an American woman who was captured by Kurdish forces after fleeing the last pocket of land controlled by Islamic State. She now revealed that she "deeply regrets" traveling to Syria to join the terror group.
Muthana has pleaded to be allowed to return to her family in Alabama with her 18-month-old son.
Please fill in your e-mail so we can share with you our top stories!