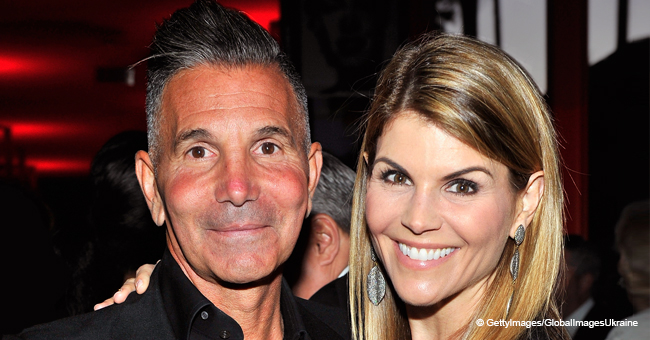 Lori Loughlin, Mossimo Giannulli's Daughter Allegedly Blames Parents for 'Downfall of Her Career'

Although no legal action has been taken against the 19-year-old, Olivia Jade Gianulli is reportedly blaming her famous parents for damaging her rising career as YouTuber and influencer after the scandal broke out.
Olivia Jade and her 20-year-old sister Bella have been the subject of great controversy since their parents were linked to the college admissions scam that has been recently uncovered by the authorities.
Before the scandal, Olivia was the most public of the sisters, with a huge following in YouTube and deals with beauty brands and clothing lines, but her popularity is now at risk and she holds her parents responsible for this, according to US Weekly.
"Olivia blames her mom and dad for this scandal and for the downfall of her career" an unnamed source allegedly told the news outlet.
"[She] was initially trying to shrug off the scandal as something that would pass after a week and she could go back to her life," the source added. But as days go by, the controversy is not going anywhere, and it is taken a toll on Olivia.
"Now that her endorsement deals have fallen through she is very upset with her parents," the source was quoted with saying in relation to Olivia having lost deals with Sephora, TRESemmé, and HP, and her clothing line been taken down.
"Olivia didn't even show interest in going to college, she wanted to take time and work on her beauty career, but her parents were the ones who wanted her to get an education," it was shared.
Olivia had her own idea of a career and was apparently in the right path to succeed in it, but her parents alleged insistence in the girls to get a college education at any cost, might have ended it for her.
"She has been passionate about her career and wanted to work and was doing well but that wasn't enough," a source reportedly told Entertainment Tonight.
"Her parents said she would have to juggle college and her career. Now she's devastated because everything she built implode before her eyes. She feels they ruined everything."
-Anonymous source, Entertainment Tonight, March 20, 2019.
Both of the Giannulli sisters had been admitted to the University of Southern California (USC), but their association with the alleged admissions scheme has made their situation in the institution uncertain.
Despite the actions USC might take, the sisters seem to have voluntarily decided not to return to the campus. Both Olivia and Bella have been the target of online attacks and mockery, and they are taking refuge in their close circle.
"Bella and Olivia have a very tightknit group of friends who have been there to support them. They've needed that support because they're being attacked at every turn," the ET informer added.
While Bella appeared to be more serious about getting into college, Olivia Jade once faced backlash for her comments about going to college, as she showed how spoiled and disinterested she was about her education.
"I don't know how much of school I'm gonna attend," she said in one of her videos in August, which has since been taken down.
"But I'm gonna go in and talk to my deans and everyone, and hope that I can try and balance it all. But I do want the experience of like game days, partying…I don't really care about school, as you guys all know," she confessed.
Although she later apologized for her remarks, the comments she made have returned to haunt her in the wake of the "Operation Varsity Blues" investigation.
Both Longhlin and husband Giannulli were charged on March 11 with being involved in a college admissions and cheating scandal that implies they made illegal payments to USC's insiders to secure their daughter's admission.
The Giannulli's "agreed to pay bribes totaling $500.000 in exchange for having their two daughters designated as recruits to the USC crew team" according to court papers obtained by BBC. It is not known if any of the sisters were aware of the irregular procedure.
Please fill in your e-mail so we can share with you our top stories!