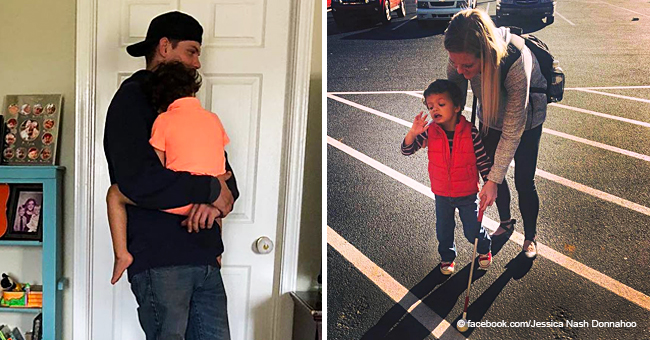 Mom posts viral photo of cable Tech who Held and Comforted Her Blind Son While Doing His Job
Jessica Nash Donnahoo was having a stressful day taking care of her son with special needs who wouldn't stop crying, another toddler and doing chores; an "angel" in the form of the Tech guy, Robert, helped her soothe her son while he fixed her internet cable.
Having a child with special needs is a tough job. One has to be attentive and patient with the child. It's a full-time job, and as the parent you will be worrying round the clock for your child's safety.
It does not help when the parent has to combine such a full-time job with other professional careers and errands. Jessica's story was not any different as she had to juggle between a part-time job as a nurse and being a parent to two adorable toddlers, Sailor and Sunny.
Her son, Sailor, was born with two rare, brain defects. "Optic Nerve Hypoplasia, or ONH, which means his optic nerves didn't fully form in utero; he is blind as a result and the other is a Chiari Malformation".
Jessica shared her story about how she and her husband tried to have children.
Sailor came into their lives when doctors informed the couple that they could not have kids on their own, so they opted for adoption. The couple was not aware of Sailor's brain defects until later when he started having seizures.
She told Bored Panda about Sailor's slow growth. And how he could not communicate his needs to anyone.
"I try to meet all of his needs but, like any toddler, he is just sometimes unhappy."
She said.
One of the times when Sailor chose to be a typical toddler and would not stop crying was the specific morning an internet technician came to their home to upgrade their internet and help her family start-up TV streaming.
Jessica said "he walked into a mess." She was overwhelmed with chores and taking care of crying Sailor and Sunny, his younger sister while her husband worked a full-time job.
The technician named Robert was kind-hearted and tried his best to suit Sailor while he worked. His simple act of kindness was huge for Jessica.
Jessica took to her Facebook to show how much she appreciated Robert's help. She took a picture of Robert comforting her son, and she posted it on her Facebook with an open letter to Spectrum Internet; the company where Robert works.
She wrote:
"Robert could have walked in, rushed, and left but instead he saw a need greater than internet and met it. That's beyond customer service- it's humanity at its best Robert deserves a raise… a promotion… something! He's an asset to your company, and I will never forget his kindness."
The post went viral, and the company reached out to her.
"The VP of Spectrum Enterprises called me directly to thank me for the post and to report that they're proud of Rob's choice to step in and help with my son!"
she said.
She expressed her joy at the number of people that have read her post.
"I think that we live in a world where we are so overwhelmed with news of politics, violence, and drugs. I think this resonated with so many people because we all need to have our faith in humanity restored at times."
She said.
Her Facebook post about Robert's act of kindness serves as a reminder that there are still good people in this world.
Please fill in your e-mail so we can share with you our top stories!