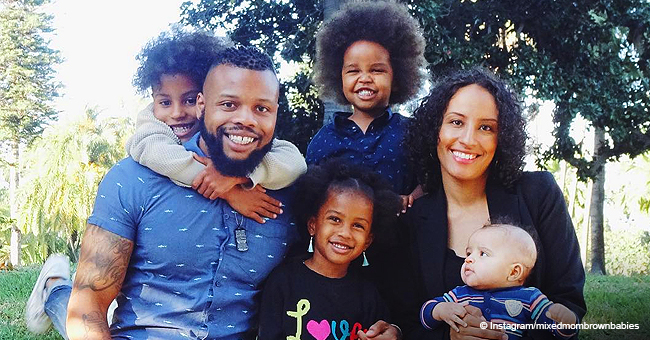 'There's Not Enough Realness,' Mom of Four Goes Viral after Sharing Candid Multitasking Photo
Being a parent is no easy task, and Jazmyne Futrell, a California-based blogger and mother of four, tried to make people understand it with a photo that went viral in no time.
In the image, she appeared doing several things at the same time, including cooking, breastfeeding, helping one of her children with the homework, and keeping an eye on the other two who were playing with toys.
Jazmyne's four children are Koehn, who was seven months old by the time of the photo, seven-year-old Karson, five-year-old Kinley, and three-year-old Karter.
"There's not enough realness on social media."
PEOPLE DON'T SEEM TO UNDERSTAND
The caption she wrote made people feel very related, and it was one of the main aspects that drove them to share and repost the photo. First, Jazmyne pointed out that her friends who don't have children get surprised when she tells them she goes to sleep at 9 pm as they "can't fall asleep before 11 pm."
However, her friends who have children also get surprised as they "can't seem to stay up past 8:30. With four kids I'm way too exhausted to even think about having a life after dark and way [too] busy to go to bed at a decent hour," added the lady.
MORE DETAILS OF HER FAMILY
Soon after the pic went viral, Yahoo Lifestyle interviewed her to learn more aspects about her life. One of the things Jazmyne said was that she shouldn't cook while holding her baby, her son had a ponytail because she didn't have time to braid his hair, and that her children were on the floor.
Even though some people might believe that all she appeared doing in the photo was bad, she posted it anyway because "there's not enough realness on social media."
HER GOAL WITH THE POSTS
The lady then revealed that she suffered postpartum depression and that all the mothers she would see on social media looked "amazing," something that made her doubt of her possibilities as a parent.
Thankfully, she overcame that situation and now hopes that, with photos like the one she shared, other mothers could understand that "they're not fighting their battles alone."
THE DOUBLE STANDARDS
During the interview, Jazmyne also focused on the double standards related to the expectations between what moms and dads are "supposed" to do, saying that she and her husband once went to a store with her children and he took the kids to another section so that she could try on the clothes.
A lady approached her and complimented her for the "awesome husband" she has as he was "babysitting" so that she could shop. However, Jazmyne pointed out that he was not babysitting his own children as "he's required by law to care for them."
KATE HUDSON MULTITASKING
Jazmyne is not the only mother who has shared photos on social media being a "multitasker." Actress Kate Hudson, who welcomed her baby girl Rani Rose in October last year, was recorded breastfeeding her daughter in the middle of her workout routine.
The clip is no longer available as it was shared on the Instagram stories one of the actress' friends, but it shows that multitasking in a real thing for parents everywhere.
Please fill in your e-mail so we can share with you our top stories!