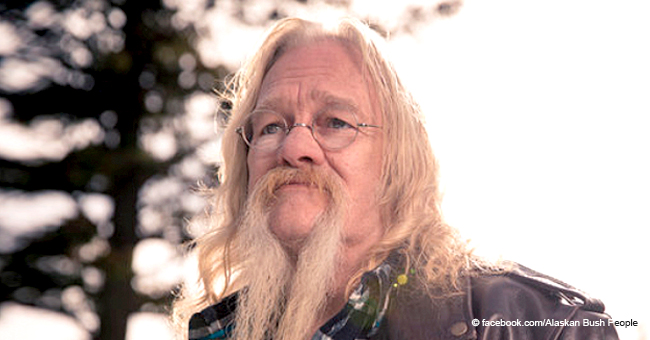 Brown Family Has Some Serious Concerns about Billy's Health in the Latest Show Preview

Patriarch, Billy Bush of "Alaskan Bush People" had a concerning health scare recently. In a video shared on Twitter, shown below, he was seen struggling to breathe.
The Brown family were left seriously concerned about Billy's health in the latest Alaskan Bush People preview which was posted on Twitter over the weekend. In a clip, it appeared he was struggling to breathe.
The new clip released by the reality series on Twitter, showed a scary and tense moment unfold. The reality shows cameras captured the family rushing to patriarch Billy Brown's aide after he begins to cough and has difficulty breathing.
"Please... Please, no cameras. Please, not right now," a voice says and one of the members of the family closes the door on the cameras.
"There is something really wrong,"read the caption of the video. The tweet added, "The Brown's have some serious concerns about Billy's health, this week on Alaskan Bush People."
The screen faded to black as soon as the doors shut and the show explains Billy struggled to breathe all night. The show said:
"Mother Ami alerted the kids after he collapsed attempting to exit the camper."
"I can't get enough air," Billy says to his family. "It just kept getting worse and worse and... It's starting to freak me out."
Talking to the cameras later, Rain Brown reflected on the situation. She went on to explain how difficult it was seeing her father struggle with his health.
"It's definitely scary to see Dad the way he is. All of a sudden, like, he can't catch his breath," says Rain.
At that point, Ami suggests taking Billy to the hospital, and he nods in agreement. Rain also addressed the decision in her interview later.
"If dad is saying he needs to go to the hospital and he's going to go down mountain, that means it's serious," Rain adds. "He thinks there is something really wrong."
Billy is not the first time he has had trouble breathing. He suffered an upper respiratory tract infection last year. In the same year, his wife Ami also fought stage 4 lung cancer and their son Matt battled alcoholism.
"All of our minds are racing with, like, what could be wrong," Gabe Brown adds in another side interview. "Just having gotten out of some serious health stuff with mom, now dad going to the doctor."
Please fill in your e-mail so we can share with you our top stories!