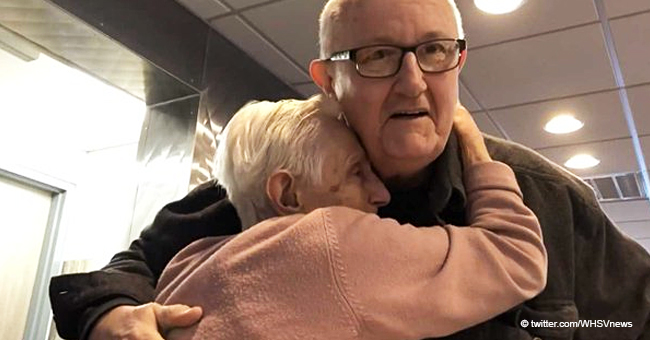 87-Year-Old Polio Survivor Finally Met the Brother She Hadn't Seen in More Than 70 Years

Polio survivor, Betty Housseal finally got to meet her youngest brother, after nearly eight decades -- thanks to her granddaughter, Brianna Nelson.
Brianna Nelson, 19, knew it would mean so much to her grandmother if she met her youngest, and only living brother, Cordell Eugene Dawson. This is why she used the internet as a means to reach out to him and set a meeting for the siblings to meet.
Brianna decided to look him up after an exchange between her and her grandmother. The 19-year-old narrated,
"I said, 'Oh, I'm going to look him up.' And she goes, 'Oh, don't bother him"
She continued,
"I said, 'Well, I'll at least just find out, even if that means we find out even if he's still living.'"
Brianna knew that finding her grandmother's brother would make her happy.
"I figured even if they only have months, couple years, whatever, to finally get to be a big sister a while, I knew that would be really rewarding for her,"
She said.
Shortly after, Brianna began her search on Facebook, having many people helping her and leading her closer to him. When she finally found him, she planned for them to meet for dinner.
Betty Housseal is an 87-year-old polio survivor from Pennsylvania, who contracted the disease at the age of one. She was the 11th of 14 siblings, which made her mother have difficulty in raising children, especially one with an ailment.
Housseal grew up with different relatives and at a children's hospital, away from her siblings. In the video posted by Brianna, she disclosed that Housseal's mother,
"Didn't really have the time or the means to take care of a child with a disability like polio."
Housseal's brother was the 14th child of her mother and was put up for adoption. The family that adopted him only lived down the street, yet she was forbidden to talk to him.
When the big day came, Betty used a walker to enter the car which drove them to the place for meeting. Her excitement was seen from the car ride until she waited for her brother's arrival.
When he finally came, she stood up, waiting for him to come closer. He then asked,
"Am I at the right table?"
In which she replied,
"Yes, you are."
The siblings hugged and everyone was filled with so much emotion. The entire scene was overwhelming and certainly made Housseal happy.
"They keep in contact still and we are in the works of hopefully arranging another time to get together,"
Says Brianna.
"They both have limited mobility which makes it hard, but it is well worth all the work."
The sweetest granddaughter, who made it all happen shared the story on YouTube, and has since been published in different news outlets all over the world.
"She loves hearing about all the countries that have heard her story! She has never been out of the country since flying with a disability wasn't easy back when she was young, so hearing from other people is so amazing,"
Shares Brianna.
Stories about meeting family after decades has been common and touching. A similar story that went viral was the meeting of a Holocaust survivor with the family that helped her escape the Nazi's 72 years ago.
Another story went viral after a group of students posted a photo on social media, giving Nazi salutes. The photo quickly went viral, given that it was a sensitive topic which sparked criticisms and concerns.
Please fill in your e-mail so we can share with you our top stories!