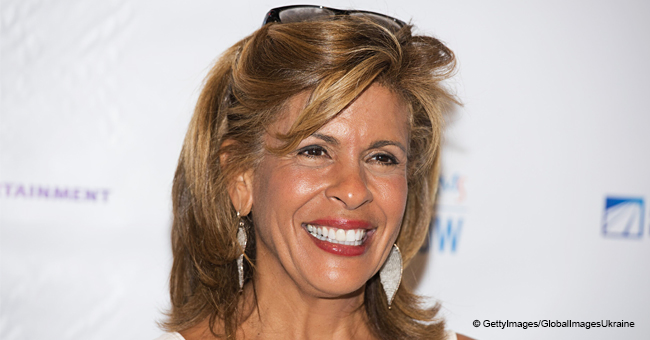 Hoda Kotb Shared a Sweet Birthday Photo of Her Boyfriend and Their Little Daughter
Hoda Kotb made her fans day with an adorable Instagram post, shown below, of her partner, Joel Schiffman and their daughter on his birthday.
"Today Show" anchor Hoda Kotb shared a heartwarming photo of her partner, Joel Schiffman, and their daughter on Thursday. The adorable post was to wish him a happy birthday.
Kotb and Schiffman's daughter, Haley Joy is a fan favorite. On Thursday, Kotb gave Schiffman a shout-out on his birthday. She shared a pic from their private family celebration.
"Happy bday to my [heart emoji]," Kotb wrote in the caption.
The heart stealing pic showed 2-year-old Haley Joy sitting at a glass table. She was completely focused on the birthday cake in front of her.
The icing on the cake read "Happy B-Day Joel." Schiffman held Haley's hand and they leaned in to blow out the candles.
Fans were blown away by the photo. They particularly loved the adorable expression on Haley's face and could not believe how fast she is growing up.
"Look at Haley holding her daddy's hand. Adorable!" one fan commented.
Another added:
"I know it's Joel's birthday, but Haley is just the sweetest!!!"
"Happy Birthday Joel! I hope you have an awesome time celebrating your special day," a third person wrote.
Schiffman and Kotb began dating in 2013 and took their relationship public in 2015. Kotb adopted Haley in February of 2017 and Schiffman has been a father figure in the little girl's life ever since.
Kotb revealed while it was scary to bring a baby into her life and tell her boyfriend, motherhood was a "gift."
"When you're a mom late in life, you realize the gift it is. I'm not saying I wouldn't have realized it when I was younger but trust me, when you're a new mom for the first time at 52, you get on your knees and say thank you. Because you get to do something you didn't think you had a shot at," said Kotb.
Please fill in your e-mail so we can share with you our top stories!