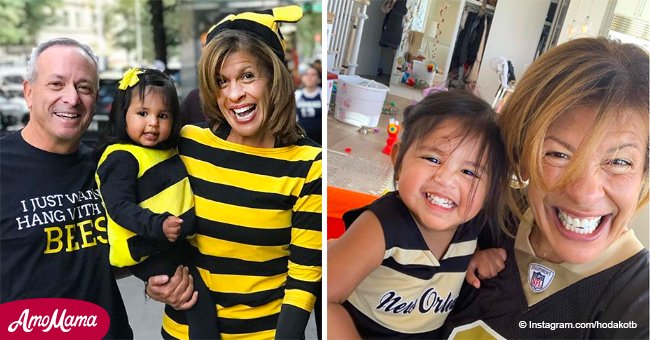 Hoda Kotb calls maternity 'a gift' and proves it's never too late to become a mom
In less than a month, the "Today" co-host will celebrate the first two years with her daughter Haley Joy, and we are pleased to look back on her touching journey to become a mother after the age of 50.
February 14, 2017, was the day when the 54-year-old journalist's biggest dream came true. After waiting for this for so long and having lost all hope of achieving it, she is treasuring everything about being a mother.
Kobt is a breast cancer survivor, but as consequence of the illness, which she suffered back in 2007, she was left unable to conceive, something that she had a really hard time coming to terms with.
So after taking her time to process all this, often daydreaming of leaving her job on TV to become a teacher in order to channel her maternal instincts in a positive way, it is not surprising that she feels she is been granted the biggest of gifts.
"When you're a mom late in life, you realize the gift it is. I'm not saying I wouldn't have realized it when I was younger but trust me, when you're a new mom for the first time at 52, you get on your knees and say thank you. Because you get to do something you didn't think you had a shot at."
-Hoda Kotb, People, March 8, 2018.
In May 2017, Kotb celebrated her first Mother's Day with her little Haley Joy, then 3 months old, and she joined "Today's" unofficial "moms club" to talk about maternity issues with her co-hosts.
During the "Mom Talk" special, Kotb opened up about how one of the greatest joys her daughter gives her is the chance to honor her own mother for the way she strengthened her confidence, hoping she can do the same with Haley.
"My mom loved me no matter what. I would walk out the door wearing a hideous outfit and she'd say, 'Oh, look at you, how beautiful you look today.' I honestly believed her," she recalled.
"I wondered in seventh grade, 'Why is no boy asking me to do anything? I'm so beautiful!'" she added.
Since overcoming cancer, Kotb thought that she had a perfect life and was already thankful for her luck, but when she pursued adopting a child with the support of her boyfriend Joel Schiffman, she knew she could finally consider herself complete.
"It's funny because I thought I had the most perfect life, and then I realized after her I didn't. I realized that this is infinitely better. Every single day is infinitely better than before she came," Kotb shared.
By adopting Haley Joy, Kotb joined the growing number of celebrities who have adopted children, helping the normalization of this procedure and proving that it is never too late to become a parent.
Recently divorced Angelina Jolie and Brad Pitt are one of the most famous recent cases of a Hollywood family that grew considerably because of adoption, with the couple becoming parents of four children from different countries.
We can tell how much fun Kotb is having with her soon-to-be two-year-old just by taking a look at her Instagram account, where she frequently shares the happy moments her life is filled with since Haley Joy's arrival.
On January 20, Kotb showed Haley Joy's histrionic skills by sharing a picture of the little girl imitating the TV host's facial expression after her favorite team, the New Orleans Saints, lost to Los Angeles missing a spot in the Super Bowl.
Please fill in your e-mail so we can share with you our top stories!