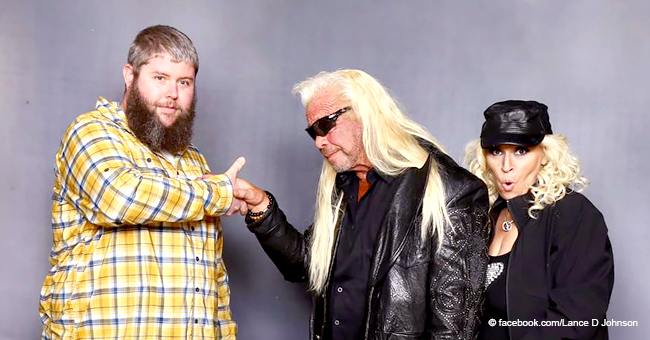 'Dog the Bounty Hunter' Fan Says Duane and Beth 'Made His Day' after She Shared Touching Photos
Duane "Dog" Chapman shared a post of a fan who he and Beth met. The couple made the fans day and commended them for their kindness.
Duane and Beth Chapman recently bumped into a fan, Lance Johnson, who Beth instantly recognized. In a Facebook post, the fan said the couple made his day and referred to them as "great people on and off camera."
"Had an absolute blast today! Meet Beth Chapman and Dog again! Hadn't seen them in person in 5 years! Beth made my day! When I walked up Beth recognized me, she said don't we chat on twitter or facebook? I said yes! She said I don't remember your name right off but I remember your face. Then I told her my name and chatted with her, Dog and Leland. They are great people on and off camera, they truly care about their fans. #bethchapman #dogthebountyhunter #lexingtoncomiccon2019"
Johnson took photos with the couple, which were included in the post that Duane reposted.
Other fans commented on the post, wishing Beth the best, and saying how they would like to meet the couple.
One comment read,
"Awesome. Would love to meet both of you one day. I watched all episodes over and over. Keep fighting Beth."

Facebook/OfficialDogTheBountyHunter
Another one commented,
"Oh my goodness I hope to get to meet Beth one day so we can share our stories about this nasty disease we both have I pray she is doing well and gets rid of it."

Facebook/OfficialDogTheBountyHunter
One also commended the couple for their work,
"Dog, my prayers are still with you, Beth and your family. Thanks for all y'all do to fight crime. I would love to meet y'all. Unfortunately I'm disabled now so can't get out. Beth is an inspiration to me and other women. Love you guys."

Facebook/OfficialDogTheBountyHunter
A similar reaction from a fan happened while Beth was waiting for her husband at Josephine's Restaurant. As Beth was paying the bill, the waitress recognized her and quickly approached her in tears, in awe of meeting her favorite star. Beth said,
"She watches our show every day for inspiration and knows I've got lung cancer. She was so devastated that it was me and the beautiful woman who she was waiting on had terminal cancer. She suddenly recognized me as someone she anchored on every day on tv. You can not imagine… I told her honey don't cry it's all ok whatever the Lord's will it is how it's going to be."
The reactions from the fans towards Beth stems from her struggle with cancer, which she has been quite open about. Beth remains positive about it, even when she started losing hair during her chemotherapy. Despite being ill, she still maintains a happy life hunting down fugitives with her family.
Fans' knowledge of the "Dog the Bounty Hunter" actress may be limited to her on-screen role and cancer diagnosis, but there is much more to Beth than what meets the eye.
As what Johnson posted, she really is a great person and an even greater mother. She supports her family and acknowledges their work, usually through posts on her Instagram. Beth recently posted a photo commending stepson, Leland, for his help on capturing a fugitive.
Please fill in your e-mail so we can share with you our top stories!