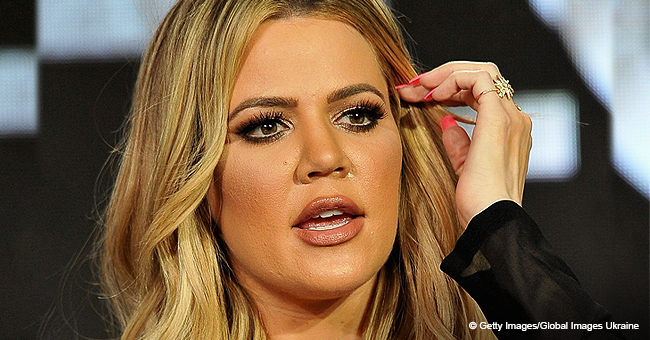 Khloé Kardashian Gets Slammed after She Calls Fan 'Cute' for Working 20 Hours to Afford Her Jeans
A fan of Khloé Kardashian revealed on Twitter she will be taking extra shifts just to afford a pair of jeans from the star's clothing line. Unfortunately, Khloé's reply left people calling her "insensitive" and classifying her answer as "tone deaf."
Khloé Kardashian is under fire on social media, once again. This time, the controversy revolves around her reply to a working fan.
"I'm fighting for all the real girls and all the girls with hips and curves."
User Kaelynn Abner took to Twitter to share her love for Kardashian's Good American brand, stating that after making some calculations, she realized she would have to work up to 20 hours to save enough money to buy one jean. "I'm in love with them...catch me picking up extra shifts," she added.
Kardashian was endeared at the confession, and replied to the fan:
"Awwwwww this is so cute!!!! I'm so happy you enjoy them."
MIXED REACTIONS
While some followers of the reality star were mostly envious about the girl getting a reply from their favorite celebrity, others were quick to point out that Khloé's answer was insensitive and problematic.
"not to sound like a hater but this actually upsets me!! Someone had to work a stupid amount of hours to afford ONE pair of jeans. A millionaire thinks it's "cute" that ppl have to calculate & think how many hours they have to work to afford little things," wrote one angered user.
Another added, "She has to work 20 hours to buy your jeans.... this is not a compliment. But it shows how amazingly out of touch you are, way to go."
And a third one agreed,
"Actually, they should be priced affordably for your fans. Honestly Khloe, you should gift this young lady with a selected few pairs of your jeans. Instead, you tell her "this is so cute" to pick up shifts to be able to afford your jeans, while you continued to cash checks."
However, others came to the star's defense. Like one user who wrote:
"To everyone bashing @khloekardashian for her comment, what EXACTLY is wrong with it? The girl said "I have to work 20 hours" not "I have to work 20 EXTRA hours." for all we know, she worked from home, or she is in high school and working or college and working. SMH ya'll assuming.."
The Good American jeans prizes go from $129 to $189 on average.
A SIZE INCLUSIVE BRAND
Khloé started the brand in 2016 alongside business partner Emma Grede as a size-inclusive denim line. The pieces range in sizes from XS to 4XL across apparel and activewear, and 00 to 24 across denim.
"I used to be a girl that would walk into a boutique, and they didn't have my size of denim, and I was really body shamed into being too overweight. I couldn't fit into their denim," Kardashian told People back then. "So I'm fighting for all the real girls and all the girls with hips and curves, yes!"
In other to promote the brand, Khloé created the "Good Squad," which she described as "a group of badass women who are individuals. They're confident within themselves." Her sisters, BFF Khadijah and Malika Haqq, Gabi Gregg, and more were appointed as brand ambassadors.
GOOD SQUAD MEMBER GONE ROGUE
Jordyn Woods was also included for a while. But after her cheating controversy with Khloé's baby's father, Tristan Thompson, she was officially removed from the Good American site and all of the brand's social media accounts.
Although the 21-year-old admitted Thompson kissed her, she denied something else happened between the two and said she was sorry about being involved in the situation.
Initially, Khloé called Jordyn out for not apologizing to her and pointed her out as responsible for breaking up her family.
But a few days later, Kardashian backtracked, accepting that it was her ex-boyfriend's fault her family was broken, and laying off the guilt from Woods.
Please fill in your e-mail so we can share with you our top stories!