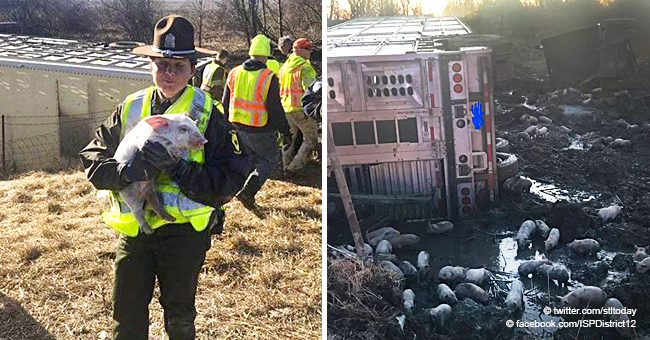 Heartbreaking Photos Show Nearly 3,000 Piglets Spilling onto the Highway with Almost 100 Killed
These heart-wrenching photographs expose almost 3,000 piglets at the scene of an accident, which killed roughly 100 of them.
The piglets have spilled across a highway after the livestock hauler transporting them crashed and overturned.
This incident calls to mind another horrifying accident that took place in 2015 in Ohio.
The crash, which occurred around 8 a.m., happened on Interstate 70 near Casey in Illinois recently.
Illinois State Police were called in to help retrieve the wandering piglets. They released photos on Facebook showing some of the surviving pigs wallowing in the mud next to the truck.
"Due to a traffic crash, nearly 3000 piglets are loose near milepost 127 (2 miles west of Casey). Troopers are on scene assisting with corralling the livestock [sic]," the officers wrote.
It took officials approximately six hours to collect all of the piglets. The surviving pigs were then reloaded onto a vehicle and proceeded onto their destination in Indiana.
According to The Tribune-Star, the crash took place when the driver became sick and turned the truck off the highway. The police cited the driver for improper lane usage.
The officers captioned another photo, "A lot of teamwork today! Many thanks to the swift help from Greenup Fire Prot. Dist., Greenup Police Department, Casey Police Department, Effingham Equity, Illinois Department of Transportation, IDOT portable scales personnel and other local volunteers. Here's Trooper Jenkins hamming it up with a customer this morning!"
In the heartwarming snap, a female trooper can be seen carrying a little pig. A man in the background was also spotted carrying a piglet in each arm.
This incident calls to mind another horrifying accident that took place in 2015 in Ohio. Many piglets were killed after a tractor-trailer carrying thousands of them tipped over. No human injuries were reported in the mishap.
Please fill in your e-mail so we can share with you our top stories!