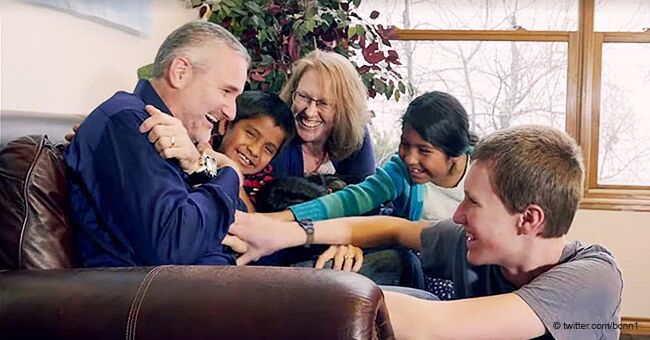 Fascinating Story of How a Spiritual Vision from God Led This Family to Adopt 4 Children
Jeffrey Moore was not into adoption until a vision from God occurred.
"The story of adoption began because God called us to it," said Jeffrey, who shares four adopted children with his wife, Kristine. "I had a vision, and it was really, really powerful."
Jeffrey's initial perception about adoption completely reversed. He was against adoption at first."
He continued: "I was floating in the ocean at night. It was very calm and peaceful, and I was being carried by something in the water, like a current pushing me toward something."
In Jeffrey's vision, the water was getting shallow, and he was walking on a beach of what appeared to be a tropical island.
"There were all of these jewels or gemstones that were lying around in the sand, and every one of them was glowing with this internal fire," He said. "All these points of light … and I just felt compelled to reach out and pick one up."
JOURNEY TO PERU
As the vision ended, Jeffrey said God speak to him.
"'He said, 'My son, are you willing to be carried by my spirit to a land far away to pick up the jewels that no one else even knows about?'" he recalled.
After this stirring vision, Jeffrey was convinced that God wanted him and Kristine to adopt children from another country.
Jeffrey's initial perception about adoption completely reversed. He was against adoption at first, saying:
"I don't think I could love a child that wasn't my own biologically."
With their biological son, Joshua, Jeffrey and Kristine went to Peru in 2017 in search of children to adopt. They returned to the U.S. with Elizabeth, Jhonatan, Mariaelena, and Talia – who are siblings.
The couple's adopted children are adjusting well to their new life in the U.S.
PHENOMENAL CHILDREN
Kristine said, "Our kids have been phenomenal. If anyone says, 'What's the greatest joy,' it is seeing the kids love Jesus."
The couple chronicled their adoption journey in the book, "We Believed: Our Ten-Year Journey Pursuing God's Promises to Adopt Four Children."
Please fill in your e-mail so we can share with you our top stories!