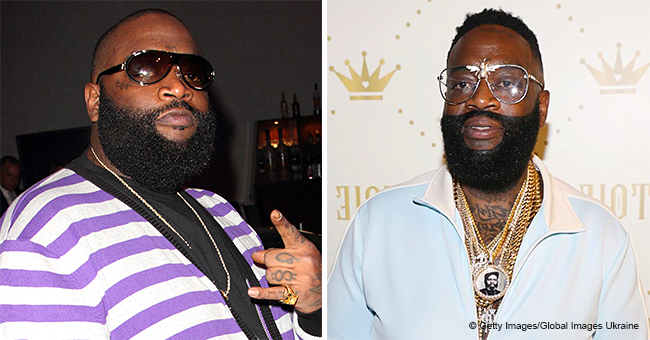 Rick Ross Lost More Than 90 Pounds after Suffering Two Seizures in Less Than 24 Hours in 2011
Through a weight loss plan he devised, Rick Ross shed off close to a hundred pounds for fear of his life. He was diagnosed with hypertension in 2011 after suffering back to back seizures in one day.
In April 2018, Rick Ross was forced to delay a performance after he had trouble breathing. Fans waited for an hour before he finally emerged from the backstage. A month before that, he suffered a seizure that left him hospitalized and his family and friends prayed for his recovery. These kinds of episodes aren't new to the rapper who several years back woke up to the realization that his life was at risk.
In 2011 Ross suffered two seizures in 24 hours which led him to the doctor's office. There he found out he was hypertensive and the solution was to manage his weight.
Armed with the fear of losing his life, Ross who peaked at 350 pounds decided to make a lifestyle change. He devised a weight loss plan that would enable him to shed the weight he needed to lose without the worry of springing back. The key was a slower, more lasting weight loss program combined with his own version of Cross Fit he named Ross Fit.
Ross worked with a personal chef, controlled his food portions and allowed himself the luxury of dining in his favorite eateries once or twice a week. He refused to go cold turkey because he knew it wasn't going to end well and he'd be right back where he started.
By 2014 he lost 90 pounds and was down to 200 pounds. He managed to maintain the weight since then.
Today, Ross continues to work on keeping fit and it shows in his recent photos on Instagram. Apart from attending to his health and music career, he also welcomed a son he named Billion Leonard in November. He shares him with his girlfriend Brianna Camille who's also the mother of his one and a half-year-old daughter, Berkeley.
In March, Ross announced he was coming up with his memoir, "Hurricanes." He told Entertainment Weekly that the book would go beyond his passion for rap.
"With this book, I wanted to go deeper than I ever have. I wanted to tell people about the life of William Leonard Roberts."
Ross' life is quite interesting. He was a football player who became a drug dealer and later a correctional officer before becoming a multi-millionaire rapper. That sentence alone is enough to look forward to his memoir which is expected to be released in September.
Please fill in your e-mail so we can share with you our top stories!