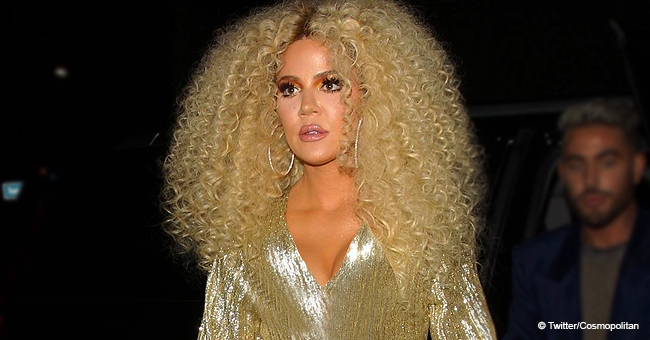 Khloé K. Dazzles in Gold Gown & Hair à La Diana Ross While Attending Singer's 75th Birthday Party
Khloe Kardashian just stepped out in one of the hottest Diana Ross costumes for the singer's 75th birthday party. Imitation, they say, is certainly the best form of flattery.
The reality tv star was among several other celebrities who attended a party at Warwick, Los Angeles on Tuesday night. Her mother Kris Jenner and older sister Kourtney Kardashian were also present.
Khloe's outfit was the most revealing between the three. She had legs for days and cleavage for weeks. The blonde curly wig widely encircled her face. Clips are found below.
The 34-year-old was donned in a light gold wrap dress that had a long slit at the front. It was belted at the waist to show off Khloe's trim figure. The chest area came low at the front, showing off her curvy assets.
Khloe paired the one piece with a pair of strappy gold heels. She wore white hoop earrings that matched her white manicured nails on her hands and feet. At least one white ring was worn on her finger.
The star shared a clip on her Instagram story during the big bash. She teased viewers about her dazzling outfit saying, "Guys, bras like this make me wanna get my boobs done because this cleavage... I mean, it's iconic."
Meanwhile, Jenner wore a glittering turquoise dress that fell to her feet and covered her entire bodice. She held a white furry scarf to accompany the turtle-neck long sleeve piece.
Kourtney's outfit was a bit more like her sister's. She wore a silver glittering pantsuit with no undershirt, revealing some cleavage in the middle as well as a black bra.
During the event, Khloe and Kourtney were reportedly invited up on stage by Ross herself to sing "Take Me Higher" with her. There must have been a lot of hair on that stage as we know Ross always goes all out with her 'do's.
Of course, along with the positive feedback, there were lots of backlash towards Khloe for her ensemble. Online, black people criticized with comments about her stealing their outfits and trying to be black.
Earlier this month, Khloe was again subjected to lots of trolling for a photo that seemed to show her body as being way too small for her head. While her makeup and outfit were on point, the photoshop job was clearly not.
Wearing a fitted body suit, Khloe showed off tons of booty as she walked up some stairs. For some, though, it didn't seem to match. One person said, "your head and hair make up your entire body!"
Either way, people were loving the outfit, with some celebrity friends of Khloe even chiming in that they wanted to borrow the outfit from the reality star.
Please fill in your e-mail so we can share with you our top stories!