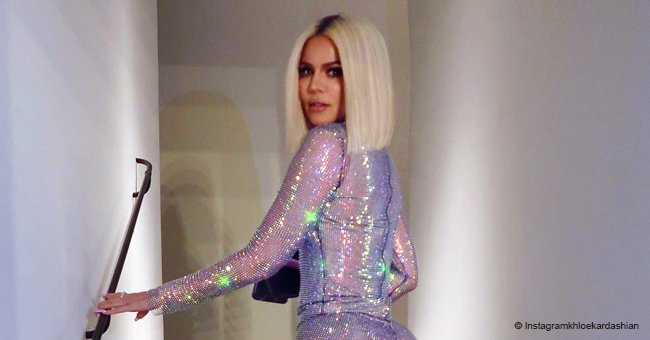 Khloe Kardashian Faces Backlash as Fans Notice Her Head Doesn't Fit Her Body in Racy Photoshoot
Khloe of the Kardashian clan is yet again the object of social media trolling as she was dragged by critics who didn't find her body shape admirable as a result of a photoshop-gone-wrong.
The Kardashians are hardly ever off the news, and this time around, Khloe got caught like a deer in the headlights.
Monday's Instagram featured Khloe's post of her wearing a very fitted body suit which boldly displayed her curvaceous body. In the photo, the 34-year-old reality star had her head placed over her shoulder while she glanced backward posing for a snapshot.
Her stance showed a generous proportion of her voluptuous shape. Khloe complemented the shimmering silvery outfit with a bleached blonde blunt cut hair alongside a pair of nude heels.
On the one hand, her fans found the outfit bedazzling as they completed the outfit. However, after doing their scrutiny, Khloe's fans immediately pounced on her as they heavily criticized her body form.
A good number of comments were pointed to how her shape looked uneven while fans all blamed the picture glitch on how the photo was poorly edited.
"Honeyyy your head and hair make up your entire body!!! Who let you post this?"
A fan agitated after Khloe shared the photo.
"OK honestly I love her but am I the only one that sees that her butt and her head are way too big for that body."
another critic mentioned while sharing an observation.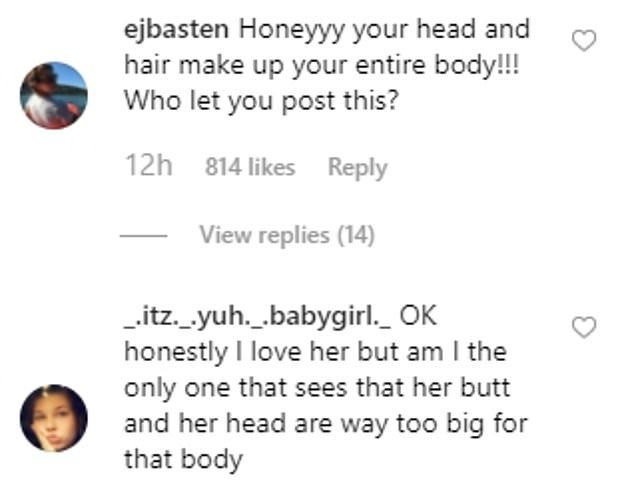 Instagram/KhloeKardashia
Despite the social media trolling, Khloe seemed to have instead gotten the approval of celebrities who viewed and commented on the post.
"Can I borrow that outfit please?"
Andy Cohen wrote while showing admiration for the outfit. Paris Hilton also commented referring to Khloe as "so hot."
A couple of fire emojis were left by Larsa Pippen on the comment section symbolizing her approval. Surprisingly, Khloe received commendation from Caitlyn Jenner whom she previously involved in a tiff.
Before now, Khloe Kardashian was spotted in the same dress in a photo which she took alongside sisters Kourtney Kardashian and Kendall Jenner. Khloe looked fuller in the picture while her features were far from being ill-fitting compared to the photo in question.
The most part of her body that received the backlash was her thighs which people complained of them appearing too thin as well as her head which critics also referred to as being too big for her frame.
Please fill in your e-mail so we can share with you our top stories!