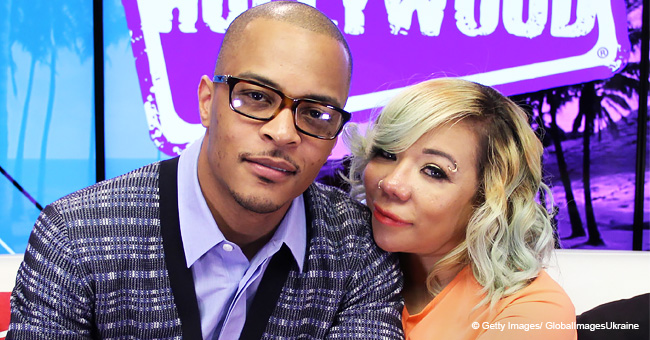 Tiny and T.I. Celebrate Daughter Heiress' 3rd Birthday with Lavish Party & Tons of Gifts

Rapper T.I. and his wife Tiny celebrated their daughter Heiress' 3rd birthday with a lavish party and a special guest.
Celebrity couple T.I. and Tiny shared the details of their youngest daughter birthday party on social media.
Little Heiress turned 3 and the family pulled out all the stops to celebrate the special occasion.
"Because in the A it's my baby's birthday…Happy Birthday to My my Tootie # PHD Heiress Diana Harris… I'm truly Blessed with the best!"
TINY'S DAUGHTER SPENT THE DAY AT A SPA
Like any budding celebrity superstar, Heiress got ready for the big day by spending the day before the party being pampered at a spa with her mom.
The little princess was feted at a lavish party attended by friends and family - and Heiress's favorite singer, 15-year-old Jojo Siwa.
The tiny girl was born prematurely and spent several weeks in the hospital
T.I.'S MESSAGE TO HEIRESS
Doting dad T.I. also took to social media to send his daughter a special message:
"Happy Birthday Scooter Poots .I can still remember how small you were when you were born (6-7weeks premie)small enough to fit in my hand when you curled up. (...) Before long you were a full-grown boss baby running the house,commanding attention,& doing it your way!!!"
LITTLE HEIRESS WAS BORN PREMATURE
The family went through a great deal of anxiety when Heiress was born three years ago. The tiny girl was born prematurely and spent several weeks in the hospital, growing and putting on weight before she was allowed to go home.
TI AND TINY'S LITTLE PRINCESS
Heiress is clearly the apple of her daddy's eye and her mom's little princess. She was showered with gifts and treats on her special day, and loved all the attention.
The cute tike sweetly thanked Jojo Siwa for her gift of a Jojo doll and happily blew out the candles on her candy-pink three-tier birthday cake.
Happy birthday, Heiress.
TI AND TINY'S YOUNGEST CHILD
Three-year-old Heiress Harris is the youngest of T.I. and Tiny's three surviving children.
Their oldest child is son King, now 14, and when he was three, the couple lost a still-born daughter. Their second son Major, now 10, was born in 2008.
Tiny has an older daughter from her previous relationship with Zonnie "Zeboe" Pullins and T.I. has three more stepchildren, bringing the blended family to a grand total of 7 children.
Please fill in your e-mail so we can share with you our top stories!