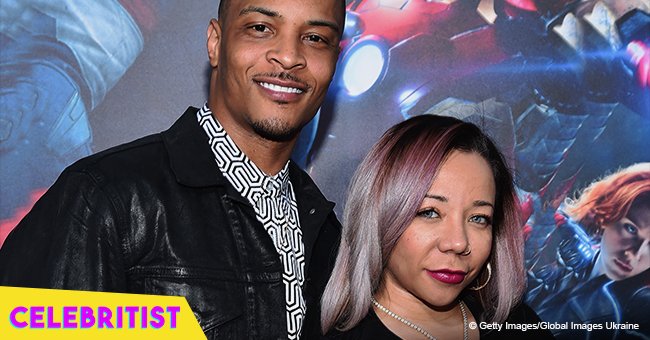 Tiny and T.I. look like a perfect family in new photo with their 6 growing children

T.I. and Tameka Harris took to Instagram to share a photo showing their beautiful family. Their six children looked delighted to be next to their parents.
The couple uploaded the same photo on their personal Instagram accounts. In it, T.I. appeared wearing a pale blueish suit and black shoes, while Tameka, also known as Tiny, opted for a black ensemble that she matched with see-through high-heel boots.
Their children opted for more casual clothes, like blue jeans, sweatpants, shirts, and jackets. T.I. wrote "family ties," for the caption. However, Tiny was a bit more detailed with her message.
She admitted that she couldn't thank God enough times for all her blessings and that it was exactly what she called "Blessed & highly Favored!"
As soon as they uploaded that photo, their followers took to the comment section to share their thoughts. One of them was @k00lhand_luke, who pointed out that their child with the green shirt "stole" T.I.'s face.
T.I.'S BIRTHDAY
The rapper turned 38 on September 25. Tiny took to Instagram to share a couple of boomerang videos and photos showing the couple enjoying their time in a pool. For the caption, she wished him a happy birthday to her "personal sex symbol" and that they were looking forward to creating new memories.
THEIR ON-AND-OFF RELATIONSHIP
As Hot New Hip Hop reported, their romance has been on the spotlight for a while given the fact that they have called off their divorce (which started in 2016) and then going forward with the proceedings several times. At the moment, it is fair to say that their relationship is good.
HER WAY TO PREVENT HIM FROM CHEATING AGAIN
Given the fact that most of the problems that their relationship has faced are related to T.I. cheating on Tiny, she requested to have access to all his phones and social media accounts, reported Atlanta Black Star.
The rapper allegedly has all his wife's passcodes, too, as it is a way to build back trust and to show transparency from both sides.
T.I. MOST RECENT CHEATING SCANDAL
A couple of months ago, The Share Room uploaded a video showing the rapper being intimate with Asia'h Epperson, the actress best known for "Greenleaf's." In the recording, the rapper is portrayed sitting on a couch with some friends.
A couple of seconds later, Asia'h is shown walking toward T.I. and she sits next to him. Right before the actress sat, the rapper slapped her on her butt. After that, he kissed the woman's back and neck while she was using her phone.
Please fill in your e-mail so we can share with you our top stories!