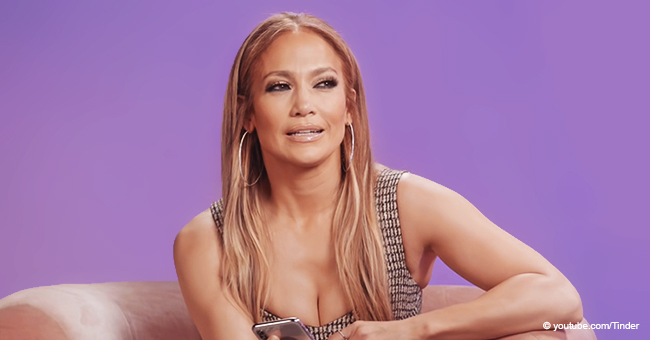 Jennifer Lopez Once Called All Men 'Really Useless' until They're 33 in a Resurfaced Interview

The 49-year-old star appeared in an online clip by dating app Tinder to give advice to a younger woman and she shared a hard truth about men under a certain age, months after starting to date her future husband Alex Rodriguez.
On July 2018, singer and actress Jennifer Lopez was featured on Tinder's "Swipe Sessions," where she coached a woman named Brooke Ansley to help her find the right man for her using the popular app.
Displaying her comedic talents, Lopez tries to help Ansley figure out what is she really looking in a man and how to find him, and in the process, she lets out a few pieces of advice and wisdom.
"Guys until they're 33 are really useless," the "El Anillo" singer, who knows a thing or two about dating (she has married three times), said casually as she checked out the profile of a 29-year-old named Maurice.
The clip has been reproduced more than 7 million times since it was uploaded and considering its comments section, Lopez statement about men under 33 stroke some chords for better or worse.
"What if this was the other way around...a male celebrity telling all the women under 30 are useless… then things would be a lot more interesting...right! He will be branded as male chauvinist… probably will be thrown out of Hollywood," an offended user wrote.
"It's time to go take your pills grandma Lopez your opinion about men is not important at your age," another user added.
Other male users took a more flirty approach in their comments, with one of them writing, "I'm 25 years and I can give JLo [the] best 3 mins in her whole life."
Unsurprisingly, women in the comments section reacted more supportive of the star's opinion. "2,500 people were men under 33," one of them wrote referring to the numbers of thumbs down the video has received.
But not only female netizens came in Lopez' defense. Relationship expert Dr. Jane Greer agrees that, in general, men in their early 30s are still busy establishing themselves financially and are unlikely to commit to a serious relationship.
"It can take men into their early 30s to establish their professional career and feel a sense of financial stability, which helps them feel more secure in life. As a result, this can give them the maturity that comes with accomplishment, experience, and success," Greer told Business Insider.
While there is an exception to every rule, Lopez' controversial remark has a logic behind it, and there is no need to take offense when a woman has clear goals in a relationship.
"Whenever it feels uncomfortable to tell the truth, that's often the most important time to tell it," Lopez has been quoted with saying.
And, true to her word, she felt that she had to enlighten other women with the wisdom she might have obtained by learning from her own mistakes, no matter who was going to become offended by her statement.
Please fill in your e-mail so we can share with you our top stories!