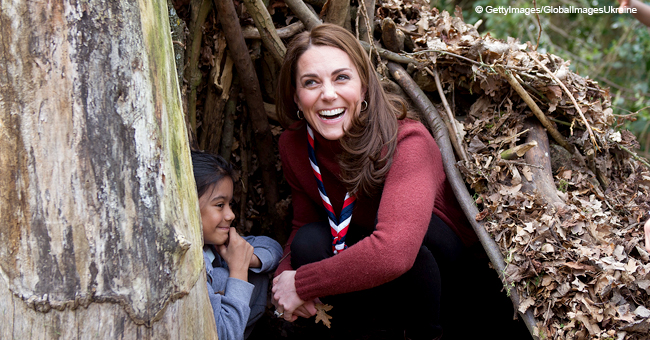 Kate Middleton Shows off Her Skills as She Spends a Day out in the Park with Young Scouts

On Thursday Kate Middleton reported for Scouts duty as she joined youngsters for a day of learning and fun to see the movement's new program.
Kate dressed down for her visit to the Scouts' headquarters just outside of London on March 28 with black pants, a red mock neck sweater, a khaki jacket, boots and a blue and white UK Scouting scarf tied in a friendship knot.
The Duchess volunteered with the Scouts during her early years of marriage when she and Prince William still lived on the island of Anglesey in north Wales. And with her love for children, she looked forward to experiencing the new program for 4 and 5-year-olds.
Upon her arrival, the 37-year-old royal was greeted with a beautiful bouquet and smilingly listened to a boy as he proudly showed off all the badges on his sleeve.
As patron of the organization in 2012, she helped in raising volunteer numbers and put some previously learned skills to good use.
"She's used her experience as a sailor to help them with knotting. She's been involved in managing games and joining in art and crafts activities," a local Scouts source told PEOPLE at the time. "We also pitched tents indoors in one of the sessions, and she remembered pitching tents."
Since research showed that a child's first five years are the most important to their development, Scouts started a trial for the new pilot program specially tailored to children between the ages of 4 and six years.
The trial included leaders, parents, and children from three different areas in the UK and Kate spent time with them all to see how the program shaped up.
She joined them for many activities that focus on communication and teamwork and included balloon rocket assembling and boat building.
According to the pilot project leader, Frankii Newbury, Kate "is a complete natural" in such an environment and added, "She engaged with each of the children and cared what they were there to do and what experience they've had. She has been a volunteer, so she understands just how wonderful scouting is for these young people."
In 2016 the organization celebrated its 100th year since it got co-founded by Robert Baden-Powell and Vera Barclay on December 16, 1916. Kate, joined them in celebrations in Kings Lynn as she recited the Cub Scout promise, participated in a first aid course and joined in a happy birthday chorus as a tiered cake got lit with 100 candles.
Recently Kate made her first ever official joint appearance with the Queen for an exciting visit to King's College.
Please fill in your e-mail so we can share with you our top stories!