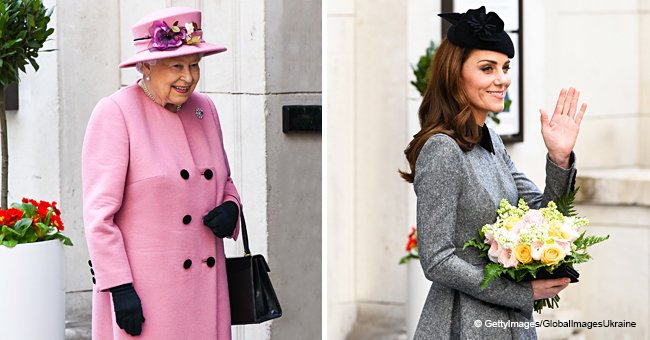 Kate Middleton Makes Her First Special Joint Appearance with Queen Elizabeth

A joint outing on Tuesday saw Kate Middleton and Queen Elizabeth attend to royal duties together for the first time since she became part of the royal family in 2011.
Looking stylish, the Queen wore a printed silk dress with a matching hat and a pink Stewart Parvin cashmere coat, while Kate stepped out in a grey Catherine Walker dress with a black Sylvia Fletcher fascinator.
Set to visit a few places in London, it marks Kate Middleton's first official solo engagement with Queen Elizabeth.
Together, the Queen and Kate paid a visit to King's College, one of the Queen's patronages which she last visited in 2012.
At the college's Strand campus they officially opened the newly renovated Grade II listed Bush House housed in the former BBC building, now offering the latest in educational facilities.
Kate then joined the Queen for a robotics demonstration which included a robotic surgery and a demonstration on textiles with integrated sensors which relay information about the body.
As part of the tour of facilities, the two royal women also met with students from the Entrepreneurship Institute at the college's virtual trading floor. At the end of the trip to King's College, the Queen unveiled a plaque to open Bush House formally.
During the Queen's last visit to King's College in 2012 along with Prince Phillip, she reopened Somerset House East Wing, while Kate visited the College just over a year ago.
In March 2012, Prince William went away for his duties with the RAF and Kate joined the Queen and Prince Phillip for the start of the UK tour as part of the Queen's Diamond Jubilee.
It was Kate's first royal engagement with the Queen without her husband, Prince William. The three royals boarded the train at St. Pancras station in London and traveled to Leicester where they met with the public and attended a service at Leicester Cathedral.
During their time in Leicester, Kate, the Queen, and her husband also paid a visit to the town's University where they spoke to design and fashion students and met with the University Chancellor as well as people from the student union.
The day at Leicester concluded with the Queen unveiling a plaque to commemorate her Diamond Jubilee tour, while Kate chose a winning shoe design made by the students. The lucky winner could design and keep a pair of shoes of their choosing.
The Duchess of Cambridge enjoyed attending to royal duties with the Queen, no doubt learning a lot from her. An experience that would one day come in handy for Kate, as things are said to change for her and Prince William once Prince Charles becomes King.
Please fill in your e-mail so we can share with you our top stories!