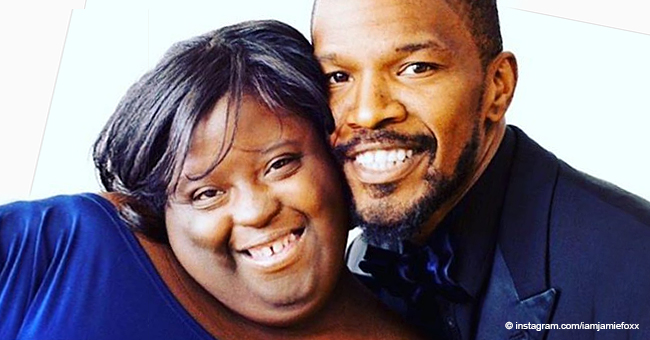 'Keep Shinin' Sis,' Jamie Foxx Praises Sister DeOndra for Her Achievements in Heartwarming Post
Jamie Foxx has never been one to hide his admiration for his sister, DeOndra Dixon, who has Down syndrome, and in a recent social media post, the actor again praised her for her achievements.
Foxx, 51, once famously said his sister "has a light on that has been on since she was born" and yesterday on Instagram, the actor/musician/comedian advised her to keep shining it.
Alongside a picture of the siblings beaming at the camera, Foxx wrote:
"Keep shinin sis @deondradixon you have been working hard these past few weeks. Keep up the good work, and I thank everyone who has chipped in to help u in a big way! Means a lot to have real people that care around."
WORLD AMBASSADOR
The "Ray" actor did not elaborate on what DeOndra, 34, has been working hard on, but it probably has to do with her role as a global ambassador for the Global Down Syndrome Foundation.
Foxx revealed during a 2014 appearance on "The Queen Latifah Show" that it was while dancing on his music video for "Blame It (On the Alcohol)" that DeOndra caught the attention of Quincy Jones.
"She kills the video," Foxx raved about his sister's dance skills. "Quincy Jones sees it. Basically, he said 'I wanna connect you with Global Down Syndrome.' She became the ambassador. She went to Congress and everything."
A WINNING PERSONALITY
DeOndra continues to be a huge part of her big brother's life. Not only does he gush over her in interviews and team up for impromptu dance-offs but the "Baby Driver" star credits his younger sibling for teaching him what truly matters in life.
"I learned how to live. You get caught up in all of this Hollywood, and it really doesn't matter. She brings you back down to what life is."
DEONDRA'S UPBRINGING
DeOndra's personality and achievements may have a lot to do with an upbringing that didn't leave her feeling different from the other kids. Foxx recalled in an interview with Down Syndrome World that their family treated his "life-of-the-party" sister like everyone else.
"I attribute a lot of that to my mother. She was the one who was making sure DeOndra went to school and got to be involved in all the activities," he shared. "She always said, 'Get out there and do your thing! Go to school, play, have fun — there's nothing different about you!'"
BROTHER OF THE YEAR
And DeOndra sure knows how to have fun, as was evident in her brother's birthday shout-out last year. While posting another of their adorable sibling photos to Instagram, Foxx gushed:
"Happy birthday to my lil sis! Super proud of u. Blessed by your beautiful spirit! And blessed by you love!! I owe u a dance party!!"
With a supportive brother like Jamie Foxx, DeOndra can't help but be amazing!
Please fill in your e-mail so we can share with you our top stories!