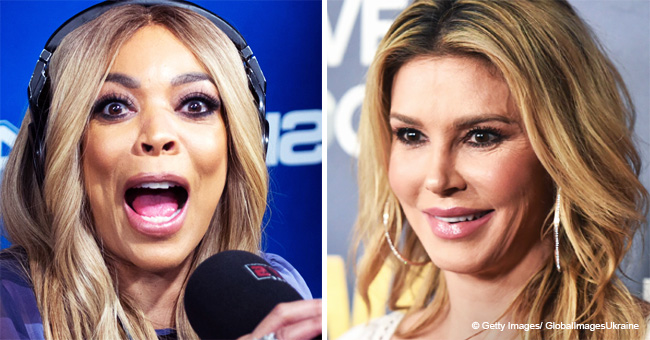 'RH' star Brandi Glanville says Wendy Williams got candid only because 'Too Many People Found Out'

Former "Real Housewives of Beverly Hills" star Brandi Glanville opened up about Wendy Williams being "very sloppy ."
Reality star Brandi Glanville revealed that she had been aware of talk show host Wendy Williams' sobriety problems for years.
Glanville opened up on her podcast "Brandi Glanville Unfiltered," after Williams was rushed to the hospital once again on March 25, 2019, when her staff allegedly found her inebriated.
"I knew there was a problem a long time ago. I did an appearance in Vegas with her where she was not okay, very sloppy"
"SLOPPY" IN SIN CITY
According to Glanville, she had become aware of Williams' sobriety issues during an appearance in Las Vegas.
Williams had been "a mess" and unpleasant, and her husband Kevin Hunter had apologized for her behavior.
According to the reality star, Williams has been hiding her real problems behind a diagnosis of Graves' Disease
WENDY WILLIAMS WAS IN SOBER LIVING
Earlier this month, Williams had admitted on her show that she was living at a sober living facility to treat her dependence on alcohol and prescription drugs.
Williams had apparently become addicted to painkillers after she shattered her shoulder in an altercation with Hunter.
GLANVILLE ACCUSES WILLIAMS OF BEING DISHONEST
Glanville stated that she believes that Williams, 54, only opened up about her addictions because had been exposed by the media.
According to the reality star, Williams has been hiding her real problems behind a diagnosis of Graves' Disease:
"Too many people found out. She had to come out and say it. I do applaud her for talking about it now. But it's, it's been too long of not being a secret. Like, people knew, and she was like, 'It's Graves' disease, it's this."
WENDY WILLIAMS' RELAPSE
Williams relapse has been attributed to the fact that her husband's longtime mistress Sharina Hudson gave birth to a baby girl on March 24.
Williams, who shares a son, Kevin Jr, 18, with Hunter, has been married for 22 years. Despite the continuous rumors of domestic abuse and his decade-long very public affair with Hudson, Williams maintains that she is happily married.
WENDY WILLIAMS' BRAVE REVELATION
Friends and fans - and even Brandi Glanville - disagree and attribute Williams' current addiction problems to her disastrous marriage to an abusive man.
Wendy Williams had been residing in a sober living facility in Queens and undergoing treatment for her alcohol and prescription drugs addiction.
This included being accompanied by a sobriety coach 24/7 - even when she went to the bathroom.
Since Wiliams has relapsed, it is not known if she will be returning to the rehabilitation program. "The Wendy Williams Show" is scheduled to resume on April 8, 2019.
Please fill in your e-mail so we can share with you our top stories!