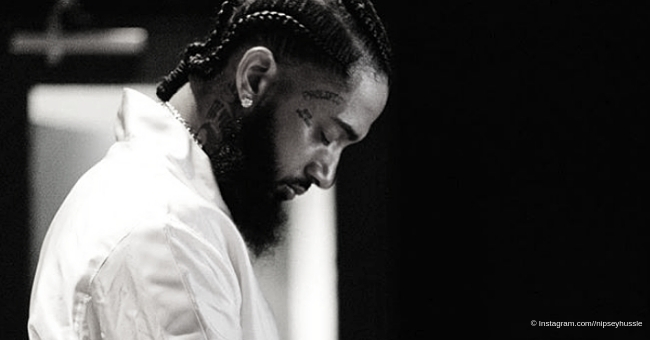 Rapper Nipsey Hussle Killed & 2 Others Wounded in LA Store Shooting
A shooting at a store owned by rapper Nipsy Hussle left two wounded and the rapper dead yesterday. The rapper was killed in broad daylight.
The Grammy Nominated rapper, Nipsey Hussle was killed and two others were wounded in a shooting yesterday. The shooting broke out at a Los Angeles store owned by the rapper.
According to police, a shooting was reported around 3:20 p.m. in Slauson Avenue in Hyde Park. The store called Marathon Clothing at 3420 W. Slauson was owned by Nipsy Hussle.
Hussle, who was well known for his work in the community and his music, was reportedly shot multiple times at about 3:20 p.m. in front of his store. He was rushed to a hospital but pronounced dead on arrival. He was only 33.
Police have not released many details on the incident but one source said Hussle was shot by a young man who opened fire at close range before fleeing in a waiting getaway car. The source also revealed the police suspect the incident is gang-related.
Los Angeles Police Lt. Chris Ramirez described the suspect as a black male who is still at large. Police were still investigating the matter and collecting evidence at the time of the announcement.
"At this point, we're not even sure as to whether he walked up, rode a bicycle or drove up in a car," Ramirez said.
Hussle may have suspected that he was in trouble before the shooting on Sunday. Moments before the shooting was reported, he posted a foreboding tweet saying,
"Having strong enemies is a blessing."
Fans were distraught by the news. Many took to social media to express their shock. Even celebrities like Rihanna took to Twitter to express themselves.
"This doesn't make any sense! My spirit is shaken by this! Dear God may His spirit Rest In Peace and May You grant divine comfort to all his loved ones! I'm so sorry this happened to you @nipseyhussle," tweeted Rihanna.
Hundreds of fans and local residents gathered outside the store to mourn the rapper. Some shared stories about his work in the local community where he grew up.
54-year-old Hyde Park resident Glenn Taylor, whose daughter was a childhood friend of Hussle's, said:
"He did so much for our neighborhood," he said. "That's why I'm here today. This has to stop."
Please fill in your e-mail so we can share with you our top stories!