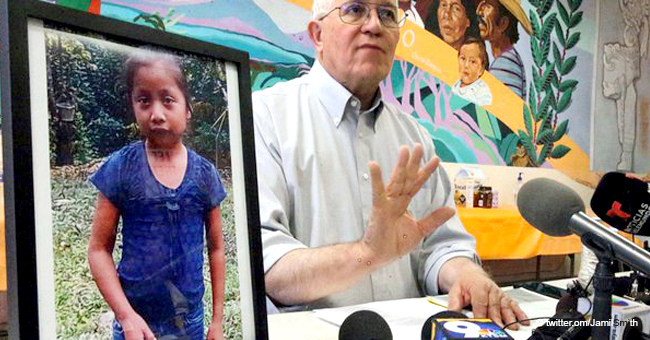 Autopsy Revealed the Cause of Death of 7-Year-Old Migrant Girl Who Died in US Custody
The cause of death for seven-year-old Jakelin Caal Maquin was just revealed to be a bacterial infection which affected several of her organs.
Maquin was the second child to die in December of 2018 after crossing the southern border from Guatemala into the US with her father. The first was Felipe Gomez Alonzo, eight, who died just two days earlier.
OVER THREE MONTHS LATER, HER FAMILY HAS ANSWERS
The El Paso County Medical Examiner's office conducted the autopsy and later released a report showing a "rapidly progressive infection" in the little girl.
They identified her illness as streptococcus bacteria which were present in Maquin's lungs, liver, adrenal gland, and spleen. The sickness caused her organs to give up. She subsequently died from brain swelling, liver failure, and cardiac arrest.
MAQUIN'S CONDITION WORSENED WHILE IN CUSTODY OF THE CBP
Maquin's father first noticed a fever after he and his daughter crossed the border illegally. Along with 163 others, they were detained and placed on a Customs and Border Protection (CBP) bus on December 7.
The young girl was vomiting at that time. An hour and a half later, they arrived in Lordsburg. Maquin had a temperature of 105.7 degrees Fahrenheit.
Her father was tasked with filling out a form which requested information about his daughter's health. The form, however, was in English, making it difficult to give accurate information from the non-English speaker.
By the time Maquin was taken to an El Paso hospital, she was having difficulty breathing and experiencing seizures. She died the next day. Outrage from sympathizers of the immigrants immediately ensured when the news was released.
MANY BELIEVE THAT BORDER AUTHORITIES WERE AT FAULT
Representative Raul Ruiz from California, commented on the matter:
"When Jakelin Caal Maquin presented to the Border Patrol facility in New Mexico, there was no specific review of experiences, signs or symptoms that would have identified that she was sick. There was no physical examination including very basic vital signs that would have most likely identified that she had a fever ... or a fast heart rate."
The Democrat's words were substantiated by other physicians who claimed that Maquin "would have been visibly sick for many hours." Maquin's family demanded answers at the time.
MAQUIN'S FAMILY REFUSED TO LET THE MATTER REST
They used the service of the Annunciation House, a non-profit organization. A statement prepared for the family called for a "transparent and neutral investigation" of the circumstances leading to Maquin's death.
Part of it also read that "Jakelin and her father came to the United States seeking something that thousands have been seeking for years: An escape from the dangerous situation in their home country."
AN ILLEGAL IMMIGRANT DIED JUST LAST MONTH
Another migrant who was trying to escape the devastation in his country Mexico passed away in late March 2019. An unnamed 40-year-old was in the custody of the CBP following illegal re-entry on March 14.
He was there for hours before a medical official evaluated him at a processing facility close to the Paso Del Norte Port of Entry. The man was found to have liver and renal failure along with the flu.
Authorities transported him to a medical center but he passed away later in the day. The CBP did not release any more details on the death nor on the man's identity.
A statement from CBP read:
"Consistent with CBP policy, CBP's Office of Professional Responsibility has initiated a review. The Department of Homeland Security Office of the Inspector General and the Government of Mexico has been notified."
It added:
"CBP will release more details as available and appropriate, and will ensure an independent and thorough review of the circumstances."
Please fill in your e-mail so we can share with you our top stories!