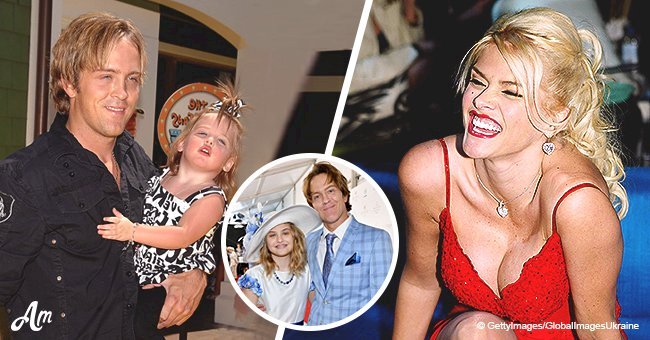 Anna Nicole Smith's Daughter Bears a Striking Resemblance to Her Late Mother
Anna Nicole Smith was a model, actress, and television actress until her untimely death due to a drug overdose. Her daughter, Dannielynn, is now a teenager and resembles her late mother.
Dannielynn and her father, Larry Birkhead, attended the Kentucky Derby together, which is their annual tradition.
The derby holds special significance for their family because that is where Anna and Larry met each other years ago.
DYNAMIC DAUGHTER
Larry told the press that Dannielynn enjoys getting ready for the event:
"This is the first year she got excited about picking things out. Normally, I put whatever on her and she's fine with it. But she likes this dress. She said 'That's ugly, that's gross,' to some choices. So here we are."
As Dannielynn grows up, she is looking more and more like her mother with each passing year. She is not pursuing a career in television, but she is reportedly worth $10 million.
Larry has full custody of Dannielynn, who enjoys trying to set her father up on dates. She seems to have adjusted well to life without her mother.
SINGLE DAD
Despite being a single father, Larry tries his best to give Dannielynn the life he thinks she deserves. They live in Louisville so that they can be out of the media's spotlight.
He gets many requests for his daughter to star in films and movies, but he turns them all down. Larry wants to wait until she is old enough to make her own career decisions.
Larry still misses Anna every day and wishes that she were still alive so that she could witness Dannielynn's life.
MORE ABOUT ANNA'S CHILDREN
Besides Dannielynn, Anna also had a son, Daniel, from her first marriage. He passed away at the age of 20. Anna was devastated by the loss, as she and Daniel were very close.
It has also been reported that Daniel felt burdened by his mother's fame because he did not enjoy the media attention.
Dannielynn was too young when her mother passed away, so she has no memories of her. There wasn't enough time for them to bond properly.
Please fill in your e-mail so we can share with you our top stories!