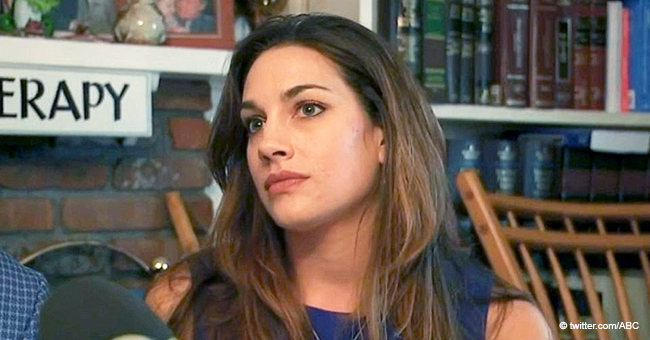 NY Teacher Allegedly Fired over Topless Selfie Plans to Sue the School District for $3 Million
"An outstanding Math instructor" got fired after a private topless photo she sent to her boyfriend three years ago got leaked.
Now a former teacher at Bellport Middle School on Long Island in New York, Lauren Miranda plans to sue to school she had worked for since 2015 for $3 million if they don't reinstate her.
"My career has been ruined; my reputation has been tarnished. I have been stigmatized," the 25-year-old said, according to News 12.
In 2016, Lauren sent a topless selfie to her then-boyfriend, also a teacher at the school which she took in the privacy of her bedroom, WABC reported.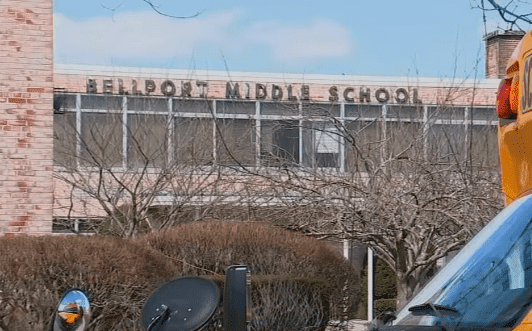 Bellport Middle School in New York. | Source: YouTube/Eyewitness News ABC7NY
Lauren views the termination of her services as gender discrimination and believes that it sends a negative message to female students. "What message are we sending to them? Lauren questioned. "To roll over when your picture gets exposed without your permission or consent?"
While it is legal in the state of New York for women to be topless in public, the South Country School District chose to fire Lauren because to them she is no longer a good role model, according to the attorney John Ray.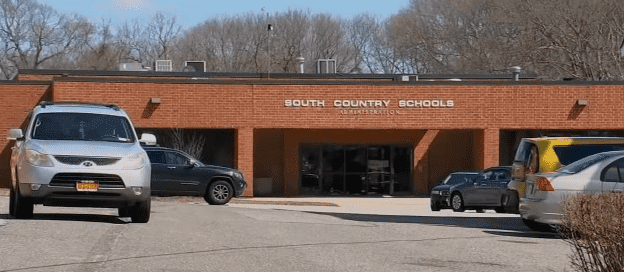 South Country School District Administrative building. | Source: YouTube/Eyewitness News ABC7NY
A review of Laurens's performance last year, provided to WABC showed the Math teacher to be a valuable asset to the school as a "highly effective teacher." And further stated according to WABC:
"Ms. Miranda demonstrated in this lesson to be an outstanding Math instructor, knowledgeable of her content area, but most of all genuinely dedicated to the academic progress of her students."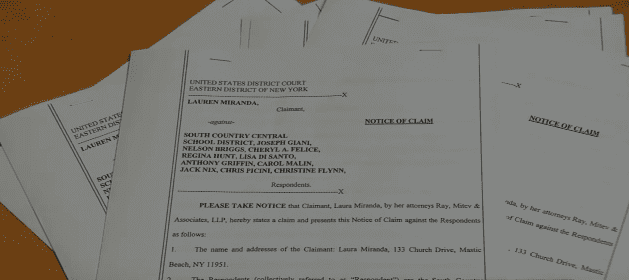 Legal documentation filed by Lauren Miranda against South Country School District. | Source: YouTube/Eyewitness News ABC7NY
With requests for comments by WABC, a school district representative said they would "not comment on active litigation."
At the beginning of December last year, Naiad Reich had a similar experience when she got fired as a teacher at Our Lady of Lourdes Regional, a private Catholic school in central Pennsylvania.
However, Naiad's only crime was that she got pregnant while unmarried to longtime boyfriend, Matt Graboski.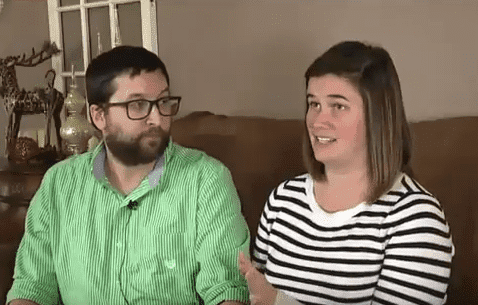 Naiad Reich and Matt Graboski. | Source: YouTube/Graffiti Art
The school, which falls under the umbrella of the Roman Catholic Diocese of Harrisburg did not share the Naiad's excitement about her pregnancy and fired her on November 30, 2018.
In all honesty, the school gave her an option of getting fired or getting married in the near future, but Naiad and Matt want to get married in their own time and on their terms.
Naiad expressed understanding towards the Catholic school's beliefs as she said, "This is their beliefs, and this is their moral code, and what they live by and I understand that. Though I don't agree with it, I understand."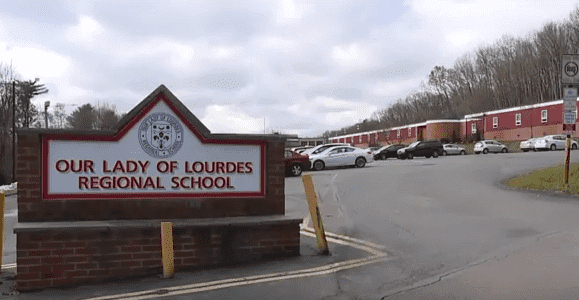 Our Lady of Lourdes Regional School. | Source: YouTube/Graffiti Art
In a similar story, Kentucky elementary school teacher Trina Abrams got fired, and face charges of assault after a video of dragging a nine-year-old autistic child through the school hallways surfaced and went viral online.
Because of the traumatic event, the young Alan already diagnosed with depression, PTSD, anxiety, ADHD, and autism suffered significant setbacks as his parents share the experience and what comes next in the charges against Trina Abrams.
Please fill in your e-mail so we can share with you our top stories!