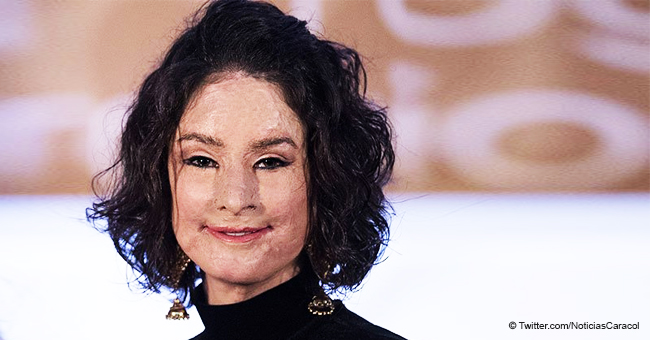 Victim of acid attack shares photos of her recovery: "They wanted to extinguish the light of my life"
A Colombian woman who was attacked with acid shows the progress of her recovery after being disfigured.
This is Natalia Ponce de León, the victim of a terrible tragedy that, today, she says 'made her reborn'. On March 27, 2014, a man named Jonathan Vega visited Ponce in her apartment on the north of Bogotá. But, when he was right in front of her, Vega sprayed her face with a chemical.
The attack had tremendous consequences on the face and various parts of Ponce's body, scars that would remain for the rest of her life. A mentally imbalanced man and a liter of sulfuric acid were responsible for disfiguring Ponce, at just 33-years-old.
Two years after the attack, after fifteen operations with artificial skin imported from the Netherlands and various treatments, the woman finally discovered her face at the same time she informed the nation that a special law would be activated to condemn those who use chemicals to harm people.
On January 6, 2016, and by the hand of former President Juan Manuel Santos, Law 1773, known as the Natalia Ponce de León Law, was enacted. "Many days and nights I asked myself" Why me? Why so much pain?" she stressed.
In Colombia, criminals who hurt their victims in this way used to serve fewer years in prison and some did it in their homes, but that was before the new law.
According to El Espectador, Vega was diagnosed with schizophrenia and sentenced to 21 years in prison in December 2016, regardless of his condition, as it was shown that Vega premeditated the attack and that he was fully aware of what he was doing.
Besides recovering physically and emotionally, Ponce has been part of various campaigns to draw attention to acid attacks suffered by many women in Colombia every year.
Also, in 2015, a foundation that bears her name was created, a non-profit organization created to defend, promote and protect the human rights of victims of chemical attacks.
HER TOUCHING MESSAGE
Five years after the day she was attacked, Ponce has come to her Instagram account to commemorate that moment when she was 'reborn'.
With a collage of three photos that show a before and after and a meaningful message, Ponce remembered the drama she faced back then and the woman she became after.
"Today, 5 years ago, I was reborn. They wanted to turn off the light of my life, but the only thing they achieved was to light it, empower it and fill it with hope", it can be read in the post.
"Many days and nights I asked myself" Why me? Why so much pain? But my family, my friends and all of you have given me the strength to get ahead. Today, my life is beautiful and full of light, forgiveness, love and tolerance, because despite adversity ... life is reborn," concluded Ponce.
MORE COMMON THAN WHAT IS BELIEVED
This case reminds us of a beauty queen who was also disfigured after being attacked by her ex-boyfriend.
Gessica Notaro was sprayed with hydrochloric acid on January 10, 2017, and all after breaking off her relationship with Edson Tavares and reporting him to the police a few months ago. You can read the full story, by clicking here.
Please fill in your e-mail so we can share with you our top stories!