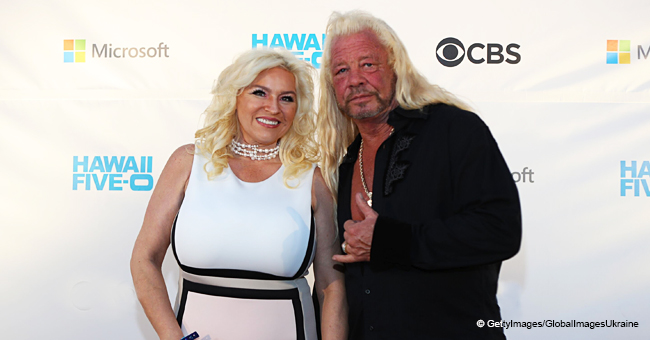 'Dog the Bounty Hunter' Reveals Sexy Nickname His Beloved Wife Has for Him

Beth Chapman has two nicknames for her husband -- and it's not your usual pet name. He revealed how she addresses him in an exclusive interview.
Duane "Dog" Chapman and Beth Chapman have been together for nearly 30 years, and are still very much in love. They have spent much of their time on camera, catching fugitives and other criminals along with their family.
In an exclusive interview with HollywoodLife, Dog revealed that they still have pet names for each other.
"She don't say to me, 'I love you honey.' She goes, 'I'm in love with you, Big Daddy,'" he shared.
"I told her to call me Dog, and she goes, 'I'll never do that!' I said, please say, 'I'm in love with you, Doggy!' She's like, 'I'm not doing that!" he continued.
Beth's fight with cancer has made Dog more emotional, battling the thought of losing his one and only. The "Bounty Hunter" actor also shared that his wife has another nickname that suits his recent emotions quite well, or so she says.
"Beth jokes that I'm the Cry Baby Bounty Hunter. I swear. She joked that the name of the show should be the Bawl Baby Bounty Hunter. 'Here he goes crying again,' Beth teased," said Dog.
Even though Beth once again faces cancer, she, along with her family, remains focused on their show. They are currently filming their new series for "Dog's Most Wanted" which Dog compared to the 2004-2012 show "Dog the Bounty Hunter".
"Well, we are still bounty hunters. So we used to go after bail jumpers in Hawaii and now we're after the top 10 in the [U.S.] Marshal, top 20 in the Marshals' Realm, and some FBI. So the ones that if you take them off the streets, the streets are safer. Beth is crazy and she wanted to take them out," he revealed.
"She'd love to take out the cream of the crop and she's right. It makes you feel so much better to get a guy that's wanted for beating up women instead of the guy that wrote bad prescriptions, you know?" he added.
With what Dog shared, fans are twice as excited to see the show. Their upcoming series seems to be more intense and nerve-wracking, especially for those who love criminal catching cases. Dog also added:
"WGN America ordered 10 shows and I promise these guys don't go down like they used to. You've got to shoot them, you've got to taze them. We don't use lethal weapons. You've got to take them down. They just don't come down."
Fortunately, Beth has been up to film and work with the rest of the crew, despite her illness. It seems like a good distraction from always thinking about her health. More so, she herself is always positive about her situation.
Beth was diagnosed with throat cancer last year, after just being declared cancer-free in 2007. Doctors deemed her cancer to be incurable, given that it is already on stage four. Although her family tries to remain positive and focused on their job, it's not easy just setting emotions aside.
Dog talked about a conversation he and Beth had:
"The other day she said to me, 'I'm not sure, but I could be dying.' She said, 'I want you to look where I'm at. I'm on the road, chasing bad guys with my family, Duane.' You know, when we're out there chasing bad guys we don't think about it. It's not even real."
Beth's supportive husband has been with her through it all and will always be by her side through this journey. Dog is positive about what the turnout of events will be.
"I'm Chiricahua [a Native American tribe] and I believe in G-O-D. That is my name spelled backwards and I've never had such a challenge in my life. I am there for her and I'm not going to let her die," he said.
Please fill in your e-mail so we can share with you our top stories!