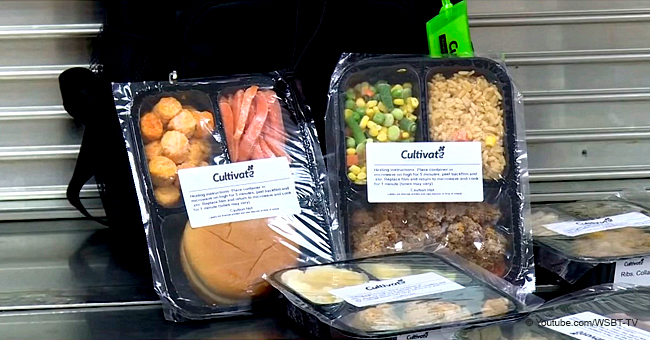 Indiana School Leaves No Pupils Hungry by Packing Take-Home Meals for Underprivileged Students
The Elkhart School District has joined forces with a South Bend-based non-profit organization to make sure its students don't go hungry. The organization has been working on a pilot program at Woodland Elementary.
The non-profit works to recycle and repackage food from the Indiana school for underprivileged students.
At Woodland Elementary School students usually get breakfast and lunch, however, underprivileged students sometimes don't have food on the weekends at home. However, with the help of the South Bend-based non-profit Cultivate Culinary, this has changed.
The organization provides weekend meals to a small group of students. The food comes from the school's cafeteria and its usually left-over's that weren't used.
Jim Conklin, Cultivate's founder explained:
"Mostly, we rescue food that's been made but never served by catering companies, large food service businesses, like the school system. You don't always think of a school."
Conklin elaborated on their system saying:
"Over-preparing is just part of what happens. We take well-prepared food, combine it with other food and make individual frozen meals out if it."
The non-profit guarantees that at least 20 students will receive a backpack with 8 individual frozen meals every Friday until school ends. Natalie Bickel, from student services, admitted: "At Elkhart Community Schools, we were wasting a lot of food."
She added, "There wasn't anything to do with the food. So they came to the school three times a week and rescued the food." The Chamber of Commerce's Leadership Academy Commerce assisted in getting the pilot program on its feet.
Melissa Ramey, from the Chamber Leadership Academy, noted:
"It's making a big impact. I am proud of that. It was heartbreaking to hear that children go home on the weekends and that they don't have anything to eat."
The Elkhart school system intends on expanding the food program to other schools.
Another story that will have you believing in humankind again is the one of Lee Hamilton, who is affectionately known as "Mr. Lee" at Puster Elementary School in Collin County, Dallas. The students and teachers at his school district launched a fundraiser in order to pay for his extensive back surgery.
The fundraiser for the elementary school custodian is meant to help him avoid having to use a wheelchair. The GoFundMe page raised $23,350 of the $17,000 goal to pay for his medical bills and living expenses.
His first surgery was on March 20.
Please fill in your e-mail so we can share with you our top stories!