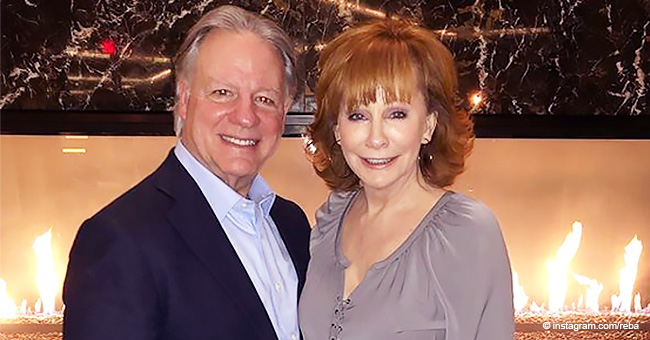 Here's Everything to Know about Reba McEntire's New Love 'Skeeter' Lasuzzo
In 2015, country legend Reba McEntire divorced her partner of 26 years. It took her two more years to finally find new love in the form of a retired oil geologist.
This Friday, her cover story about finding love will feature on "People" Magazine. The country singer's new boyfriend also speaks up about dealing with her fame.
Reba McEntire, 64, is currently dating soft-spoken Anthony "Skeeter" Lasuzzo, 70. Speaking about her relationship, the singer said: "We're totally in love — absolutely."
She added, "I wouldn't put up with somebody for two years if I wasn't in love with 'em!" The pair met in August 2017 while she was on a vacation tour of Jackson Hole, Wyoming.
The singer was traveling with a friend of Kix Brooks, a member of the country duo Brooks & Dunn. Lasuzzo was a wildlife photographer who took McEntire and her friends to different locations for animal sightings.
Recalling the moment, the singer confessed: "We just had the best time. And so two nights later, we all went out to dinner, and he bought my dinner." Two months later, McEntire returned to Jackson Hole and the widower asked her out on a date.
The country legend, whose new album called "Stronger Than the Truth" will come out on Friday, said: "I was there almost a week and we spent every day together." They started becoming closer until they made their public debut at the Grammy Awards last year.
Lasuzzo has a home in Pottsboro, Texas and another one in Jackson Hole, Wyoming. McEntire resides in Nashville and the couple alternate visitation.
The musician shared that they spend a lot of their time "walking." The former geologist's Texas home also happens to be a 90-minute drive away from where McEntire's family resides in Oklahoma.
That allows them to visit the singer's mother. The couple also enjoys traveling and has already vacationed in South Africa, Italy, and Iceland.
The pair is different in that the country musician prefers texting while Lasuzzo leans more on making phone calls. The compromise they reached – they now speak on the phone instead.
Her new man also enjoys meditation while the star is more inclined to pray. Lasuzzo was previously married to Marolyn Tyler Lasuzzo, who died in 2013 from breast cancer.
He has four children, daughters Holli, Tyler, and Kristi and son Blake. Plus the widower is a grandfather to five grandchildren.
On Sunday, Lasuzzo will be joining McEntire in Las Vegas for the Academy of Country Music Awards. The singer shared, "We like to color coordinate a little bit" however they didn't want to "clash."
The widower worked as a professional in the oil and gas industries since 1974 and that has helped him handle his girlfriend's fame. The singer explained, "He was in oil and gas and he gave speeches and talks and dealt with the public, and so he understands a lot more than someone else might not be able to."
She added, "It came natural [sic] for him."
Although the couple has found love and is happy, McEntire revealed that she had no intention to date. She confessed, "I was not looking," and "Not even interested."
Seems love finds you best when you aren't expecting it.
Please fill in your e-mail so we can share with you our top stories!