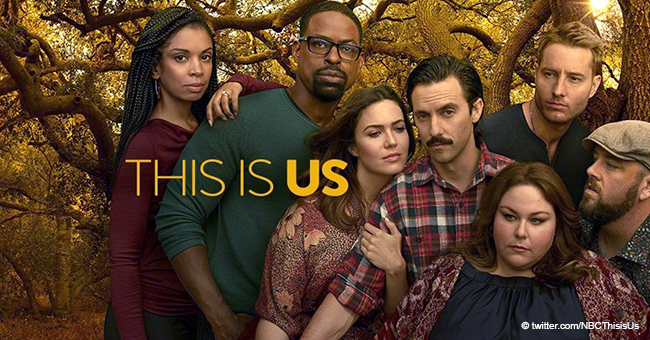 'This Is Us' Star Mandy Moore Talks about Rebecca's 'Heartbreaking' Fate in the Season Finale
The last episode of the season may have finally answered one big question but leaves fans with more to unravel in the next.
Loyal viewers remember the season two finale all too well when a mature Randall (Sterling K. Brown) sadly tells an older Tess (Eris Baker), "It's time to go see her." At that time, fans had no clue who "her" was and couldn't figure out why it was such a heavy scene for Randall and Tess. This season ender finally reveals why—and it is just heart-wrenching.
Flash forward to the Pearson family surrounding their beloved matriarch, Rebecca Pearson (
Mandy Moore
) laying
down in a hospital bed, looking worn and weak with age.
Moore
says
in
an interview, "I'm glad that we're starting to tell that part of the story. There are a lot of questions surrounding what may or may not ail Rebecca, and obviously, we can't confirm or deny anything. But… clearly, there's something going on. And in that sense, she's just not the vibrant woman that I've known for the last three seasons. So to see her in that place is pretty… heartbreaking, you know?"
Previously referred to by Jack Pearson (Milo Ventimiglia) as the "engine" of the family, it was truly difficult for some to see Rebecca in that state.
Moore confirmed, "We're in the final throes of her life, the last couple of weeks, I would say. You get that sense of urgency of the family gathering, for one reason or another, and in my mind, it's to sort of say farewell."
Fans were quick to notice that one major character was missing from that family gathering: Rebecca's second husband, Miguel Rivas (Jon Huertas). Moore says vaguely, "We will definitely learn more about that. I don't know if it's going to be next season, or if it will be season 5, but definitely." She added, "He's sort of the unsung hero. I love him so much, and I love Jon Huertas so much. I just can't wait to do more stuff together, whatever decade it may be in."
Another part that Moore was vague about was the question of Rebecca's illness. Because Randall had to say his name twice implies that she may not have recognized him. This brings speculations to ask if Rebecca was possibly suffering from dementia.
She answered simply, "I don't know. I think that will be revealed in the next season or two, for sure. Could go either way."
When asked if a previous episode where Rebecca had a brain scan due to a cancer scare was relevant, Moore replied vaguely once again with "Ohhhhhh! Interesting. I hadn't really thought about that. Perhaps."
When asked how the family will go on without its engine, Moore said, "Isn't that one of the bigger questions in life and part of this human condition? I think that's why we find and create our own families—to carry that legacy on and figure out who's going to be the glue of the family. Who's next in line? Who's the next and waiting to take on that role in the family dynamic and carry things into the next generation?" No doubt, the highly anticipated season 4 is all set to continue surprising its fans.
Here are some fun facts about "This Is Us" that will leave even the most loyal viewers saying, "What?"
For instance, many will be surprised to know that Moore is the youngest actor in the present-day Pearson family. Can you guess who the oldest is? Yes, Sterling K. Brown at 42 years old is the oldest actor, eight years older than Moore.
Dan Fogelman, the creator of "This Is Us" said that the series was originally titled "36" which was supposed to feature sextuplets who did not know they were related.
A last bit of trivia? While the cast knew about Jack's cause of death for a year and a half, they had to keep it secret. To avoid spoilers, Moore said that they had to shoot out of order, everyone on set had to sign nondisclosure agreements, and they even created a code word for it: "The Marble."
Please fill in your e-mail so we can share with you our top stories!