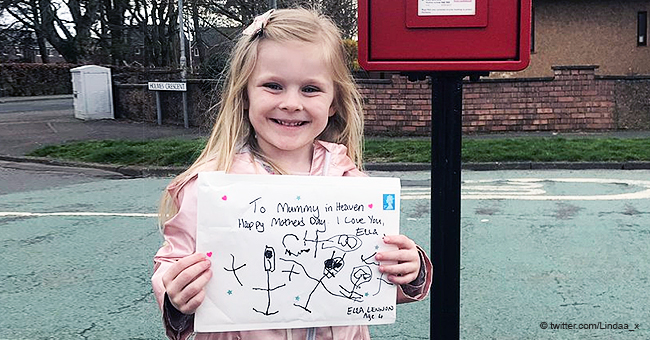 4-Year-Old Girl Received 'Reply' from Late Mother after Sending Her a Cute Card on Mother's Day
A very special little girl from Kilmarnock, East Ayrshire, England, has recently received a very touching response to a Mother's Day card she sent to her late mother.
4-year-old Ella Lennon lost her mother, Jennifer Lennon, to cancer last year, but that didn't stop her from sending her a Mother's Day present through the mail.
It was a very sweet and heartbreaking moment, but what the Lennon family didn't expect was for Ella to receive a letter from a "kind stranger" at Royal Mail.
AN INCREDIBLE ACT OF KINDNESS
Linda Ross, Jennifer's younger sister, took to her Twitter account to share a photo of Ella with a wide and bright smile on her face as she showed the letter with the return address 'Mummy, 1 Angel Gate, In the Clouds, Heaven.'
According to Ross, Ella's face lit up with the biggest smile upon receiving the letter, and the proud aunt took the opportunity to thank the anonymous Royal Mail worker who took the time to make her niece happy.
WATCHING OVER HER ELLA
Ella's card was addressed to "Mummy in Heaven" and had the picture of a minion, from "Despicable Me," on the front with the words "You're one in a minion, Mum."
Sometimes, all it takes is the will to play along to make someone happy
The surprising response was nothing but adorable and read "'You're one in a minion to me and I love you very, very much. Millions and billions and trillions is how much I love you!"
"You are growing up to be a very clever and special big girl, and I am so proud of you. And even though I am in heaven, I watch over you every day! Lots of love, hugs and kisses, Mummy xxx."
Royal Mail, Daily Mail, March 3, 2019
Although it wasn't really Jennifer who sent the letter, it seemed that way to Ella, and that small illusion was enough to make her day a whole lot better. Sometimes, all it takes is the will to play along to make someone happy.
THE IMPORTANCE OF MAKE-BELIEVE
William Va'ana, a supermarket cashier, was well aware of this when he impersonated Maui, a famous character from Disney's film "Moana," to amuse two young girls named Ryley and Rylyn.
Due to sharing similar features with Maui, Va'ana was able to pull the stunt and even invited the children to come around the corner and perform the character's high-pitched "Chee-hoo" line with him.
Please fill in your e-mail so we can share with you our top stories!