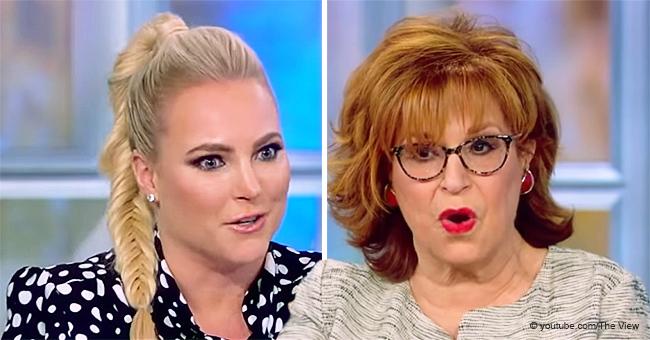 Meghan McCain and Joy Behar Start a 'Ridiculous' Debate about Democratic Socialism
"The View" co-hosts Meghan McCain and Joy Behar got into a heated exchange on Tuesday, quarreling over the term "socialism."
It all began as co-hosts were discussing Pete Buttigieg, the Mayor of South Bend, Indiana as a presidential candidate.
This is not the first time co-hosts have had heated discussions. The talk began with Behar bringing up openly gay Democrat presidential hopeful Mayor Pete Buttigieg as "the candidate to watch, whose popularity is skyrocketing and who has already raised $7 million for his campaign." She also mentioned a poll showing 68% of Americans are okay with having a gay presidential candidate.
Ana Navarro-Cardenas then she was "ready to have a qualified president that does not divide the country."
Sunny Hostin shared that she thought he was "very impressive" and praised him for being "proud of his faith."
McCain then mentioned that "25% of Americans are comfortable with a socialist becoming president."
Behar responded by saying, "When they [the American public] realize what that means, they'll come around."
McCain fired back with, "People are smart," which Behar replied to by saying "So am I." McCain responded with, "So am I! So am I! You disagree that I'm smart?"
While Behar said she thought McCain was smart, but she did not agree that "socialism is a bad thing in the way they're describing it."
She added, "The way they [the right] describe it makes it sound like we're all going to be in Venezuela," in reference to the country's ongoing political crisis.
This was met with McCain muttering, "So ridiculous."
She continued with:
"I'm just trying to explain to you the other side, why he's a great candidate. And why Democratic socialists could be leading you towards the path of Trump getting re-elected. But instead, I'm told I don't understand what Democratic socialism is. I assure you, Joy, I do."
Behar then cut to commercial.
Some Twitter users were quick to react:
"Sparks Fly! Meghan McCain And Joy Behar Get Into An Uncomfortable Fight On 'The View'"
"Yet another heated debate between Meghan McCain and Joy Behar of The View is making headlines this week. Tempers unsurprisingly began to flare between the longtime..."
Some are still confused about how the fight started. For curious viewers wondering where Behar and McCain stand as of now, Behar shared, "Sometimes one of us goes over the line. I won't say what specifically but sometimes things go over the line that then have to be pulled back."
She added, "It would be very unrealistic to think that there would be no acrimony, disagreements, and maybe even hurt feelings sometimes. That's the way it is."
Meanwhile, Meghan McCain and Alyssa Milano have been vocal of their support for former vice president, Joe Biden, amid another accusation. Amy Lappos that Biden grabbed her head and rubbed his nose on hers while at a fundraiser a decade ago. Former Nevada politician, Lucy Flores was the first to come forward, that Biden touched her shoulders, smelled her hair and kissed the back of her head—all without her consent when she was running for Nevada lieutenant governor in 2014.
The 76-year-old 2020 Democratic presidential hopeful has denied the allegations, saying:
"In my many years on the campaign trail and in public life, I have offered countless handshakes, hugs, expressions of affection, support and comfort. And not once—never—did I believe I acted inappropriately. If it is suggested I did so, I will listen respectfully. But it was never my intention. I may not recall these moments the same way, and I may be surprised at what I hear."
He continued by saying, "But we have arrived at an important time when women feel they can and should relate their experiences, and men should pay attention. And I will. I will also remain the strongest advocate I can be for the rights of women. I will fight to build on the work I've done in my career to end violence against women and ensure women are treated with the equality they deserve."
Please fill in your e-mail so we can share with you our top stories!