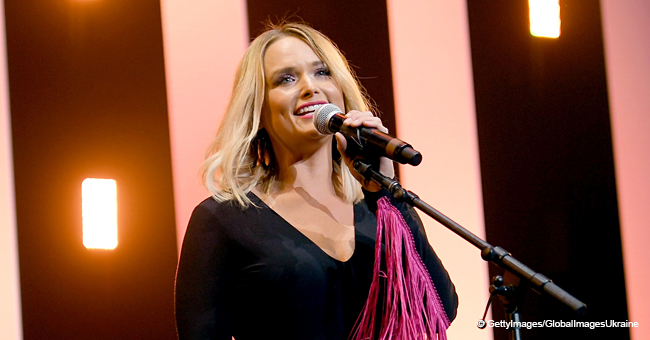 Miranda Lambert Jokes about Husbands 'Pissing You off' as She Sings for 'Queen' Loretta Lynn
Country singer Miranda Lambert hints at knowing a thing or two about when "husbands piss you off a little bit" before performing Loretta Lynn's "Don't Come Home A-Drinkin" for the country legend's Nashville birthday bash.
It was an "All-Star Birthday Celebration Concert" for Loretta Lynn at the Bridgestone Arena on April 1st, and the country music icon who turns eighty-seven on April 14 was presented with a loving tribute by her friends in the industry.
Lynn was serenaded by her A-list country pals like Keith Urban, Brandi Carlile, Darius Rucker, Garth Brooks, and Trisha Yearwood to name a few.
Lambert's spiel before her performance brought the house down as she said,
"I'm so honored to sing for the queen. Thank you for inspiring me, for all of the advice, I guess you would, about when husbands piss you off a little bit. I'm gonna do one of those right now."
The newly married Lambert announced her second marriage to police officer Brendan McLoughlin in February, which caught her fans by surprise. Her first marriage was to "The Voice" coach and country singer Blake Shelton.
"Don't Come Home A-Drinkin' (With Lovin' on Your Mind)" seemed a fun choice for twice-married, Lambert as it was written by Lynn with her sister Peggy Sue based on Loretta's marriage to her late husband, Oliver "Doolittle" Lynn. The controversial theme of the song was unusually bold for its time, but its honesty about what some women have to put up with made it a number one hit.
Loretta married when she was only fifteen years old and had six children with Oliver, who she called Doo. She reflected on their fifty-year marriage saying,
"I married Doo when I was but a child, and he was my life from that day on. But as important as my youth and upbringing was, there's something else that made me stick to Doo. He thought I was something special, more special than anyone else in the world, and never let me forget it. That belief would be hard to shove out the door. Doo was my security, my safety net."
The three-hour show ended with the icon's signature song, "Coal Miner's Daughter," with the entire cast of country stars performing it together with Loretta finally taking the microphone to sing the words,
"Yeah, I'm proud to be a coal miner's daughter."
Please fill in your e-mail so we can share with you our top stories!