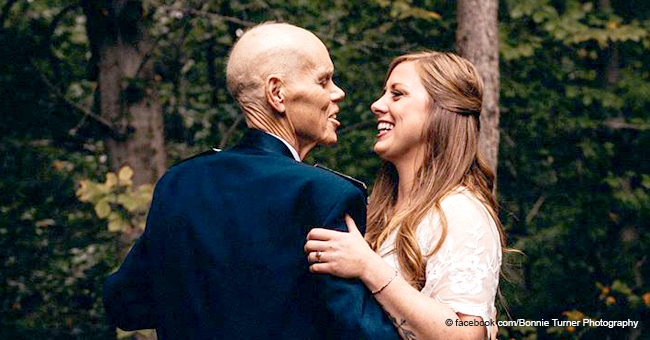 Bride Asks Photographer to Capture Her Dance with Terminally Ill Dad in a Last Minute Request
A social event photographer received a very special professional request that she couldn't refuse as it meant helping a family struck by cancer capture an unforgettable occasion. Her photos have now gone viral.
Virginia-based photographer Bonnie Turner has attended innumerable family events with her camera and trained eye to capture the moments her clients want to treasure forever, but nothing prepared her for Becky Carey's wedding.
On March 28, Turner took to her Facebook account to tell the touching story of Carey and how the bride-to-be reprogrammed her engagement photo session to perform the final dance with her terminally ill father.
A REQUEST SHE COULDN'T REFUSE
If business is going well, wedding photographers work on a very tight schedule, so any last minute request can be a serious inconvenient, but when she received an email from Carey explaining what she needed, she Turner knew she had to do it.
Turner shared the full text of the email Carey sent to her back in September 2018, ahead of her wedding, in a post that featured several of the pictures from the last photo session Carey and her father did before his passing.
"My dad has been fighting Prostate cancer and his body is now at the point where it can't handle more treatment. We found out yesterday that he starts hospice this week," Carey wrote Turner.
"My dad and I are getting dressed up to film our first dance so that I can have it at my wedding. Dad is getting weaker by the day and unfortunately we have to do this as soon as possible," Carey explained.
"I wanted to see if you were able and willing to come and take photos at my parent's house in Woodbridge on this really last minute request. We are throwing this plan together really fast because we don't know how long we have before he won't be able to," she wrote.
Needlessly to say, Turner gladly agreed to show up and take the pictures, and she did an incredible job in creating the most beautiful pieces of art that will let the family revive the emotional moment for generations to come.
PUBLIC REACTION
Turner's Facebook post has been shared more than 30.000 times as of April 5, and it has received more than 4.000 comments from users, becoming a viral phenomenon.
"We cannot thank you all enough for your love and outpouring care. The Carey family is overwhelmed with so much right now and their hearts explode from all the kind words and prayers."
-Bonnie Turner Photography, Facebook, March 29, 2019.
"God bless you for doing this!! Prayers for the family," Amanda Woodward Hidalgo wrote. "These photos are everything! I'm glad you were able to capture these for her and her family. God be with his family and may he Rest In Peace," Selena Jackson added.
"Love you, Bonnie, and love your hear! Truly amazing! Prayers for this special family!" wrote Kasey Hardman.
PETE OTTO'S STORY
Carey's story reminded us of a similar case reported by Today in July 2017, when a marrying couple invited a terminally ill father to dance with his two daughters in the celebration, as he was not going to be there for their own weddings.
54-year-old Pete Otto had battled Non-Hodgkin lymphoma for 16 years when he and his family learned that there were no more treatment options available for him, meaning that he had not much time to live.
Even though his daughters Megan and Jessica had never lost hope about their father's recovery, it was time for them to start coming to terms with the fact that Pete wasn't going to be around by the time they marry.
Understanding this, Jessica's childhood friend Michaela Cook-Yotts, who was about to marry, invited the former and Megan to perform their father-daughter dances in her wedding.
The special day arrived on February 18, 2017, when Michaela and Nora Cook-Yotts married in Sharon, Massachusetts. Pete and his two daughters took the dance floor and danced to Aaron Krause's cover of "Every Breath You Take."
"It was easily the most important thing they could have done for us at the time. We loved every second of it. We will cherish that memory forever," Jessica shared.
Please fill in your e-mail so we can share with you our top stories!