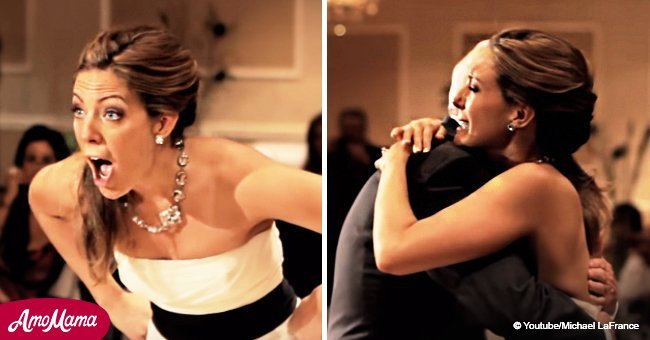 Bride who lost father before wedding breaks into tears when brother tells her to turn around

A woman received the most special gift from her brother on her wedding day; something that helped her heal the deep wound of not having her father by her side on that milestone of her life.
While a person's wedding is usually considered his or her happiest day, sometimes they turn out to be the occasion of conflicting emotions when the people one would always imagine sharing those moments with had already left this world.
Any of us who have experienced the loss of a beloved person knows that it is something that stays with one forever. Read more on our Twitter account @amomama_usa
But it is fundamental to count on the support of those that are still around to make peace with it and go on living while treasuring the memory of those we miss so much. And this woman is lucky enough to have such a caring family.
Photographer Michael LaFrance was there to beautifully capture the loving gift that Andrea Middleton received from her brother Luke on her wedding day after the two lost their father months before the celebration.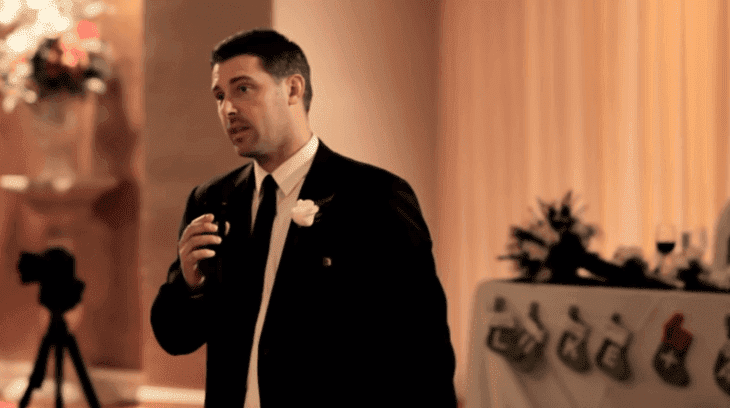 Source: YouTube/Michael LaFrance
According to Pizza Bottle, Andrea and her father had planned to dance to Bob Carlisle's 1997 beautiful song "Butterfly Kisses" on her wedding's father/daughter dance, but her father sadly died of cancer before the chosen date.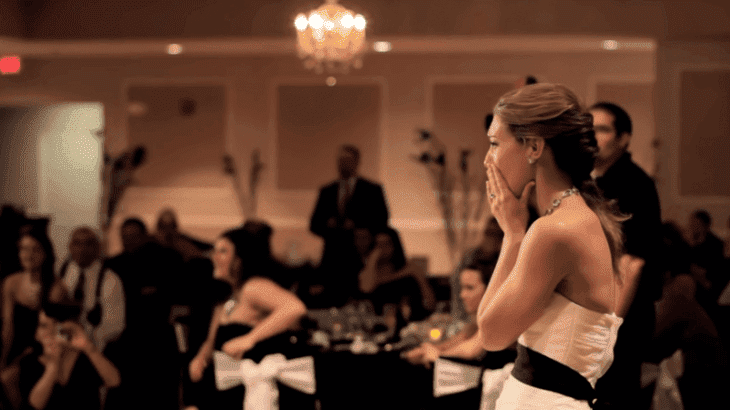 Source: YouTube/Michael LaFrance
Andrea was already engaged when her father passed away, so she was really hoping he was going to make it to her wedding. Her loss left her devastated, but she knew she had to go on with the plans.
Knowing this, Luke had the idea of recording his own version of the song and surprise his sister with it as many male figures close to Andrea joined her on a dance to show them their support on such an emotional ordeal.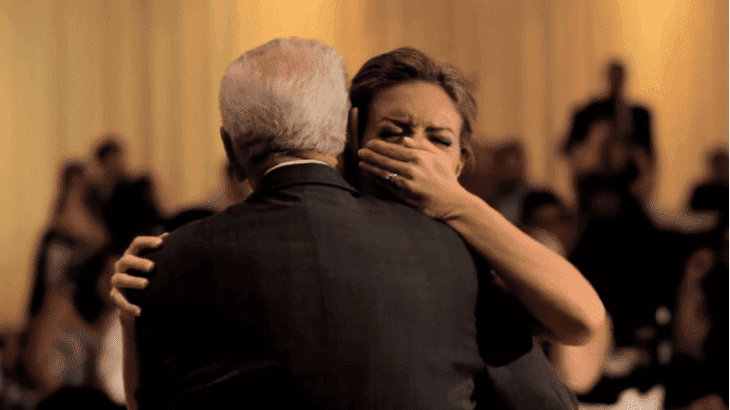 Source: YouTube/Michael LaFrance
"It was a truly touching moment not a dry eye in the house. Her dad, Mark, died earlier in the year from pancreatic cancer. Andrea's first dance is with Mark's father, followed by her brother Luke, then brother Nick and finally her new father-in-law Scott."
-Michael LaFrance, YouTube, July 23, 2012.
Everybody in the room had to surrender to their tears as a sobbing but grateful Andrea danced to Luke's rendition of the song, which lyrics are about a father whose "little girl" is about to marry.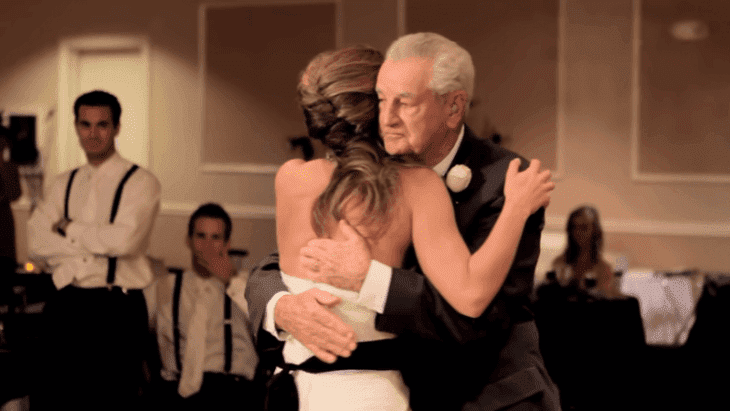 Source: YouTube/Michael LaFrance
The song recalls the moments a father spends with his daughter since she is a little girl he watches going to sleep until he "gives her away" to the man she gets married to.
"I couldn't ask God for more, man, this is what love is/ I know I've gotta let her go, but I'll always remember/ Every hug in the morning, and butterfly kisses," are the song's closing lyrics.
The meaningful dances that are traditionally performed at weddings usually are the most magical and emotional moments of the celebration. Both father/daughter dance and the first dance as husband and wife tend to melt everybody's heart.
Another bride received the most unexpected gift as she was getting ready to dance for the first time with her new husband in front of their guests when a famous country singer appeared to perform the song they had chosen for their first dance.
The bride's reaction when the DJ pretends to experience some technical difficulties to play the track in question but instead the renowned country singer makes his entrance is priceless.
Please fill in your e-mail so we can share with you our top stories!