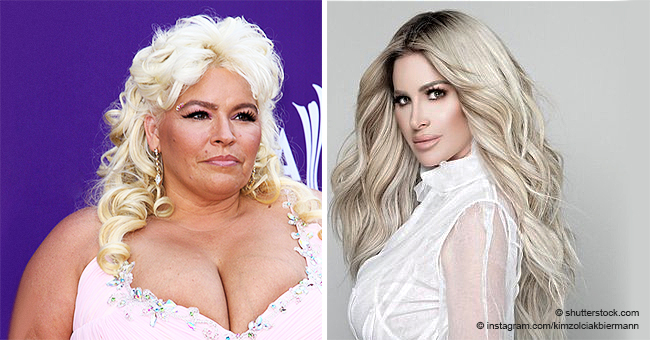 Beth Chapman Sends First Message since Hospitalization to Her Friend Kim Zolciak-Biermann
Beth Chapman proved that she's nowhere near down and out by responding publicly on Twitter to a close reality star friends of hers.
The wife of the famous bounty hunter, Duane "Dog" Chapman was hospitalized on Saturday for an "accumulation of fluid in her lungs."
A Facebook account of Duane's announced the information which was later confirmed to PEOPLE by the family's lawyer. It added that Beth is "now at home resting with her husband."
In response to the news, Beth's friend Kim Zolcia-Biermann, who stars on the "Real Housewives of Atlanta," sent a message to her friend on Twitter.
It read :
"Thinking about you and praying for you [Beth Chapman], sending lots of positive vibes your way."
The 57-year-old replied to her friend with a kiss emoji along with a red lips emoji and wrote: "I love you, friend."
In the Facebook post, the family expressed that they were "grateful for the thoughts and prayers from their fans. Keep them coming."
Beth has been battling cancer for five months now since its return to her throat in November 2018. Her original diagnosis was in September 2017, two months later she was declared cancer-free.
The disease came back with a vengeance when the bounty hunter star was rushed to the hospital for the throat blockage in November. Since then, she's been fighting hard and sharing updates of her recovery online.
In addition to traditional chemo treatment, Beth revealed that she has also looked into the medicinal properties of cannabidiol, or CBD. In February, she shared her opinion about the marijuana plant, saying:
"The real medicine behind the plant is very interesting, [and] the healing qualities are vast."
She continued :
"We need to all be far more open-minded to new treatments. Israel is leading the world in these studies. We no longer need to poison patients to get them well."
Amid Beth's battle, she and her husband are currently working on the return of their bounty hunter show, "Dog's Most Wanted." The income from the show is meant to assist with Beth's medical bills.
In a recent interview with DailyMailTV, Duane called the ordeal the "biggest test of [his] life."
He was hopeful though, saying:
"My baby has cancer and she is fighting like hell. I have cried a lot over this because Beth is my everything [...] Mark my words, I will not let her die. She is my rock and my bodyguard. I will do everything I can to keep her here."
We pray that Beth is able to overcome her most recent health woes and has an overall successful recovery as she fights the devastating disease.
Please fill in your e-mail so we can share with you our top stories!