Jennifer Lopez Bares Her Rock-Hard Abs by Showing off Her 'Money Moves' in a Sultry Video
Alex Rodriguez shares a video of his dancing lover, Jlo. The popular actress looks super sexy while dropping her "moves," serving her fans on all levels.
Jennifer Lopez can be labeled "body goals" because of her amazingly toned body coupled with her flawless skin and chic fashion sense; and the actress never fails to serve elegance.
In a new video dropped by her fiancé, Alex  Rodriguez on Instagram, JLo looked stunning in a sports bra and a pair of matching sweatpants while her hair was packed in a rough bun style. The video was made in their hotel room at Denver.
The couple had earlier on caught a flight to Denver in order to attend a baseball game between Colorado Rockies and the Chicago Cubs.
The 49-year-old celebrity showed off her well-chiseled body coupled with her dance moves as she moved to the rhythms of a mashup of Cardi B's "Bodak Yellow" and her own song, "Dinero."
Being the ever-supportive lover, Rodriguez who was behind the camera cheered his woman as he made several sounds while he hyped Lopez. Dropping hints on the singer's upcoming It's My Party tour in North America, he captioned:
"You know it's coming, it's already her party here in the Rocky Mountains # rehearsals #cantwait #JLoItsmyparty"
Lopez who recently got engaged to former NFL player, Alex Rodriguez, has been on a quest to keep her body in shape for her upcoming movie "Hustlers" which is to be released in 2020.
The movie revolves around strippers and its storyline is based on New York magazine's article "The Hustlers At Scores".
To keep in shape, the mother of two engaged herself in a 10-day no-sugar, no-carb challenge and her fiancé who always has her back joined the actress as well. The multi-talented celebrity has an amazing body and she never fails to bless her fans with lovely photos.
One time on the set of "Hustlers," while filming what appeared to be a mall scene, JLo looked incredible alongside "Crazy Rich Asians" star, Constance Wu. The singer was photographed sporting a pair of white jeans and blue denim which she donned over a gray top. Her outfit did a clear outline of the singer's great body.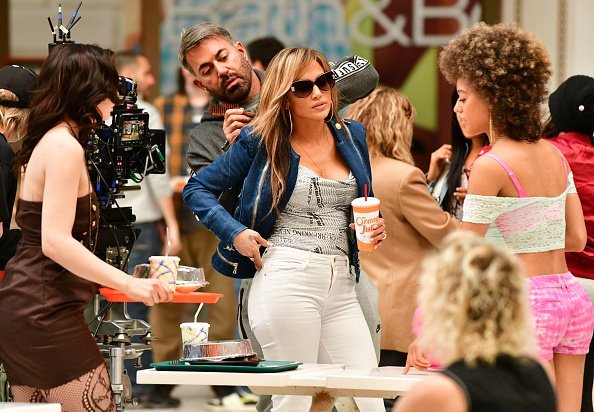 With an amazing family, a doting fiancé and a thriving career, JLo seems to be living her best life.