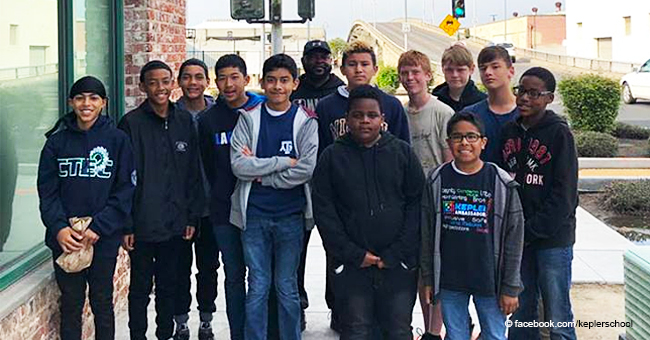 'Your Life Matters!': Brave Scholars Prevent Desperate Woman from Committing Suicide
Middle school children in California became heroes last Thursday after preventing a woman from taking her life. The group of boy's reminded the woman that her life mattered.
The children screamed words of encouragement until the suicidal woman believed them.
The Kepler Neighborhood School volleyball players became heroes when they saved a suicidal woman. The Fresno, California team members were warming up for practice when they noticed a woman on the edge of the Tuolumne Street Bridge.
Branden Ezell, 12, recalled how the woman had waved to them first before attempting to take her own life. Ezell shared, "We're walking up and she waves at us, so we wave back."
He added, "And by the time we looked away and then look back up, she's already hanging off — like, full-on hanging off, just one arm holding her up." Realizing what the woman was trying to do, the children went to inform their coach, Elliott Murray and asked him to call 911.
While he called he instructed them to go back to the woman and try convincing her to lift herself back to safety. Murray recalled, "I said, 'Immediately, go back up and get her attention. Tell her her life matters."
The brave boys did as they were told and their coach revealed, "So for a whole 10 minutes or so, they did not stop yelling, screaming, telling her, 'Your life matters!'" Murray added, "She took a glance and hearing those kids, it registered to her, 'I can't do this in front of them.'"
A Fresno Police Department spokesperson confirmed that officers were dispatched to a report of a suicidal woman on Thursday. She was then transported to a mental health facility for a 72-hour evaluation.
Police officers determined that she was a danger to herself. Murray said he was "very proud" of his team for taking action and saving the 47-year-old woman's life.
Elijah Gomez, a member of the volleyball team, said he was grateful for the difference he was able to make with the help of his friends. He shared, "I don't think I'll ever forget that moment."
Adding, "And then what was best about it, I know we saved a woman's life, but I'm proud that I was able to do it with my brothers." Kepler School's director of student services, Timothy Yeager, took to Facebook with a post praising the team.
He wrote:
"These young men stepped up when no one else could. Words fail to do justice how incredibly proud we are of these Kepler scholars and Coach Elliott's leadership."
In a statement, Fresno Police Chief Jerry Dyer said:
"Their words of encouragement caused this woman to realize her life value. Thank god they were in the right place at the right time."
There are physical changes and behaviors that show a person might be thinking about committing suicide. A suicidal person would display a combination of signs instead of just one single sign.
The detailed list can be found here.
The National Suicide Prevention Lifeline is 1-800-273-8255. Other international suicide helplines can be found at befrienders.org.
Please fill in your e-mail so we can share with you our top stories!