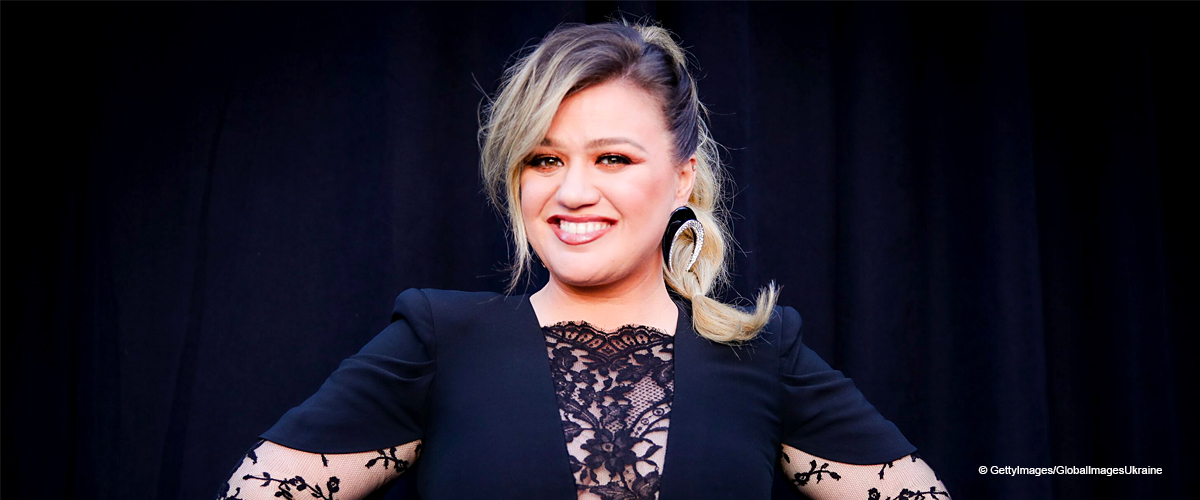 Kelly Clarkson Who Was Mistaken for a Seat Filler at the ACM Awards Says: 'It Made My Night'
Popular American singer and songwriter, Kelly Clarkson, revealed on Twitter that being mistaken for a seat filler at the just concluded Academy of Country Music Awards made her night!
The Academy of Country Music Awards is an event where high profile musicians and celebrities are always in attendance.
One would imagine that being mistaken for a seat filler will immediately ruin the night of any celebrity, but the opposite was the case for Kelly Brianne Clarkson.
The media personality shared a tweet via her Twitter handle, "@kelly_clarkson," where she explained how she was mistaken as a seat filler during the prestigious occasion. She also described how hilarious the incident was, accompanied with a GIF of Nathan Fillion on "Castle" trying to correct someone.
The 36-year-old explained:
"The greatest thing by far that happened to me tonight was being asked to move because some guy thought I was a seat filler at the ACM's tonight."
"Literally, it made my night because he was so serious, and I just politely said no hahaha,"
Kelly's popularity is one of the major reasons this story is very funny. She is a chart-topping artist; she has many hit songs and is the winner of the first season of "American Idol." Kelly Clarkson is presently a major figure on "The Voice," and has hosted the Billboard Music Awards.
Another thing that makes the incident even more amusing is the fact that Kelly performed twice that night. This caused some Twitter users to suspect Kelly's pal, Blake Shelton. One commenter wrote:
"Gotta wonder if Blake didn't slip him $20 to mess you,"
"Yeah, how close was Blake to you? I got money on Blake messin' with you,"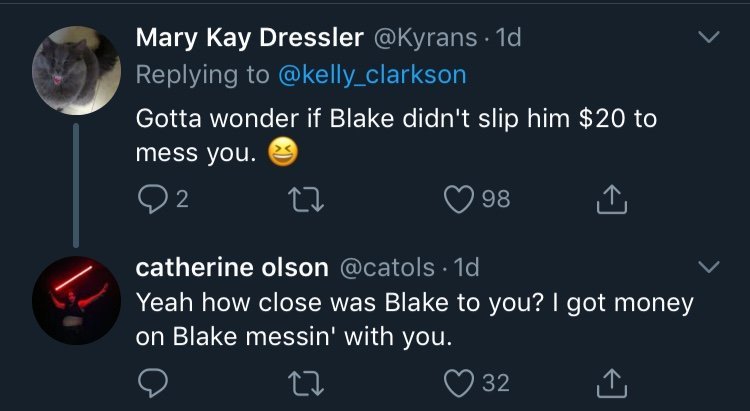 Twitter | @kyrans @catols
Besides the fun Kelly had that night, some other artists like Keith Urban, Thomas Rhett, and Kacey Musgraves also joined in the glee as they bagged some of the biggest awards of the night.
According to reports, Keith was awarded the award for the entertainer of the year, while Thomas and Kacey were able to grab the "male artist of the year" and "female artist of the year respectively."
Some other big wins include Ashley McBryde and Luke Combs, who won the "new female artist of the year," and "new male artist of the year," respectively. Dan and Shay have also been regarded by some sources as the night's big winners and rightly so since they were able to win 3 awards.
Those that missed this glorious event should better brace up and get ready for the 55th award ceremony because the recently concluded one was clearly fun-filled
Please fill in your e-mail so we can share with you our top stories!