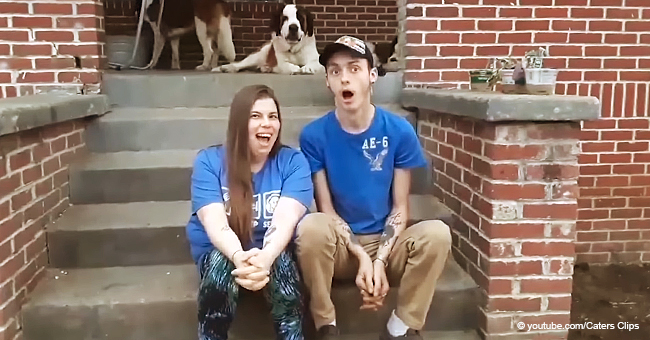 39-Year-Old Kentucky Mother-of-Three Engaged to Son's Best Friend Who Just Turned 18

Despite an age gap of over 20 years, 18-year-old Chase Gabbard and 39-year-old Jaimee Brown can't wait to tie the knot.
The two from Corbin, Kentucky, first met when Chase was 11 years old and became best friends with her son, Jaice.
In 2013, Chase and Jaimee got to know each other when they began jogging together because she wanted to lose weight and within a year Jaimee lost over 100 lbs.
A few weeks after Chase turned 18, things changed as he realized he felt attracted to his best friend's mother. He took a chance and kissed her and the pair have been inseparable since.
'I had no idea about Chase or my feelings before he kissed me. It was a total shock," Jaimee said. "I have three kids, so the first thing was that I had to be sure they were OK with it, as they are my number one priority."
The couple got no resistance from Jaimee's children and said that Jaice and Chase are still best friends.
Only two months after they started dating Chase popped the question during a scavenger hunt and claimed on asking her to marry him at least once a day since.
"I love Jaimee's personality. I knew I wanted to marry her straight away," Chase gushed while Jaimee added, "I don't think you can put a time limit on love. If you know you know."
The pair have already planned their wedding and written their vows and now waiting for Jaimee's divorce to go through before tying the knot.
Both their mothers initially had trouble accepting their relationship. Jaimee went to school with Chase's mother and it must have been difficult for her, however, Jaimee noted that the "friction" they experienced early on had been replaced with support and understanding.
Meanwhile, Chase adopted the role as stepfather which he is thankful for not having affected his friendship with Jaice. "I have embraced being a stepdad, nothing has really changed though as they are great and good-minded kids, so I don't have to get onto them too much," Chase added.
Jaimee and Chase are happy and to them "that's all that matters" but got to the point where they "don't care what anyone else says or thinks."
Another couple went through a similar experience when 54-year-old Kern and the 27-year-old real estate agent Taylor Lehman started dating.
Taylor's friendship with Kern's 30-year-old daughter brought them together almost six years ago and the couple got married in Cancun, Mexico during an intimate 25-person ceremony two years ago in May.
At the beginning of their relationship, both families had concerns about their age difference and Taylor had "a lot of guilt and felt bad at first."
But as time went on and their relationship strengthened they didn't care what others thought. They have the support of their families and their happiness is all that matters.
Relationships, where couples have big age differences, have become more common than one might think.
Another good example besides the famous Catherine Zeta-Jones and Michael Douglas pair is none other than President Trump and wife Melania. With an age gap of 24 years, Melania once commented during an old interview that she found their big difference in age to be a big "turn on."
Please fill in your e-mail so we can share with you our top stories!