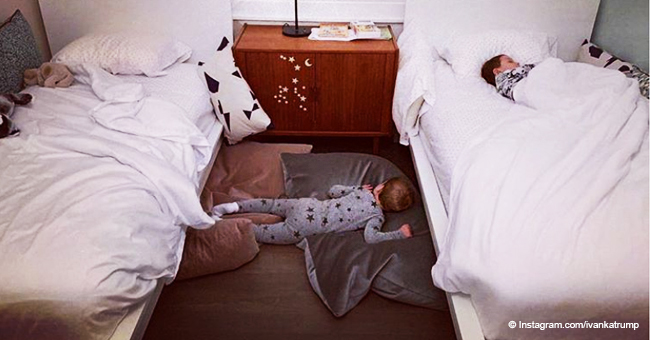 Ivanka Trump Sparks Heated Debate after Posting a Pic of Her Youngest Son Sleeping on the Floor
Trump critics used a picture posted by Ivanka of her youngest son sleeping on the floor to comment on her father's policies regarding immigrants.
On Monday night Ivanka posted a picture on Instagram of 5-year-old Joseph sleeping soundly in his bed while 3-year-old Theodore made his way onto a big fluffy pillow on the floor during the night.
The little man recently made the transition from sleeping in a crib to sleeping on a bed, and Ivanka joked that she and husband Jared Kushner "may need to bring back the crib." But as it turned out, that wasn't necessary.
Comments soon streamed in, and those against Trump's policies couldn't help but make reference to the thousands of migrant children who got separated from their families. They got kept behind a chain-linked fence that formed large cages as a result of his "zero-tolerance" immigration policy.
While the White House press secretary Sarah Huckabee Sanders found the picture amusing with the comment, "Hilarious," others like the comedian Joe Mande didn't share the sentiment as he replied to Sanders' post, "I know because that kid isn't in a cage lolol."
Those pro- and against Trump didn't hesitate to have their thoughts be known as some fans pointed out that Ivanka's kids had nothing to do with her father's policies.
Some followers hit back at the negative comments, "So adorable!! To those that made nasty comments if you don't want to follow her then don't. Please keep your nasty opinion to yourself. It would also help if you didn't believe everything you heard and did some fact checking," one follower said in support of Ivanka.
Other mothers found the post relatable as another fan posted, "Our sons are the same age and I'm holding on to the crib for dear life. Once my son can escape it's all over. And these pics you share are priceless. Thanks for sharing!"
Snide comments from trolls were plentiful as another Instagram user said, "Can you also get cribs for all the children you're separating from their families at the border?"
While today's technology makes it easy to raise global awareness around important issues, it also has the drawback of doing the opposite. Commentary and virtue-signaling can distract from the actual problem or add to it, instead of contributing to its solution.
All the virtue-signaling and commentary in the world won't help immigrants find a place to print much-needed documents for their asylum cases, it won't help them with their ICE check-in, and it certainly won't look after their children while they attend organized meetings to help with their asylum.
These are all matters in which the local immigrant rights coalition constantly beg allies to support them with, but instead, all eyes are on the blamed looking for an opportunity to express their distaste in how matters are being handled.
Solidarity is a word often thrown around when it comes to politics, while those claim to fight for justice more often relies on woketivism as they shame those of privilege and ignorance.
We need more solidarity and kindness in this world and shaming Ivanka for posting a picture of her children won't get anyone the justice they deserve.
Does every mother not deserve to share the joy they experience with their children? Whether one agrees with how the Trump administration goes about running the country or not, she is still a mother above all else.
Ever since Donald Trump became president, Ivanka's relationship with Melania became a topic of curiosity. With her role as adviser and policymaker, she set out to carve a substantial place for herself in the Trump administration before Melania even got to the White House.
However, the two rarely appear together as part of official duties and have a complicated dynamic with its own set of pros and cons.
Please fill in your e-mail so we can share with you our top stories!