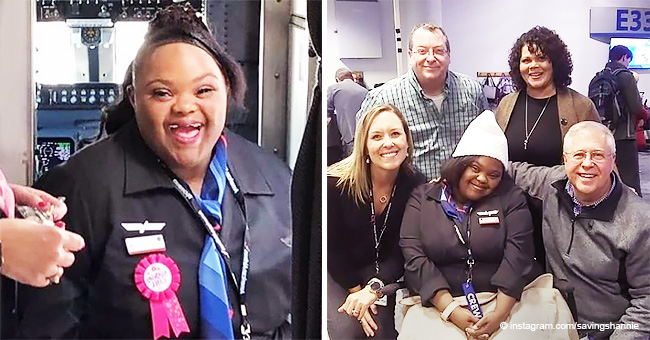 Airline Hires First Flight Attendant with Down Syndrome and She Couldn't Be Happier

A 17-year-old girl named Shantell Pooser became the first American Airlines flight attendant with Down Syndrome on the day of her birthday, leading the way for others who share her condition.
The day Shantell Pooser, who was born with Down Syndrome, turned 17, she proudly put on an American Airlines uniform for the first time and showed up at the Columbia Metropolitan Airport in South Carolina to get started as a flight attendant.
Pooser, affectionately called "Shannie" by her mother Deanna Miller-Berry, suffers from heart disease and breathing problems due to her condition, but as Miller-Berry told CBS News, she was born to defy all odds.
SHANNIE'S WILL TO LIVE
Shannie is an example of someone who chose to find a positive outcome from her struggle with a terminal respiratory illness, discovering her passion in the numerous flights she had to make to Cincinnati for treatments and surgeries.
With 87% of her respiratory tract compromised, doctors initially gave Shannie little hope of living to become an adult, but she took the chances and underwent a life-saving surgery in 2016 that was unlikely to have a positive result.
But even when there was a big possibility for Shannie to come out of the operating room in bad shape, she managed to recover much better than expected, proving to her mother that she had a strong will to live.
"She came out singing 'Let It Go' from Frozen. The surgeons were standing around like, 'We've never had anybody come out of this type of surgery talking... this girl is singing 'Let It Go' in ICU,'" Miller-Berry said.
People with Down Syndrome have a higher risk of suffering from congenital heart defects and respiratory problems. Since nowadays most of these complications are treatable, most people with the condition lead full and healthy lives.
GOING AFTER HER DREAMS
"I made a vow to God. I said, 'Shannie, no matter what you want to do when you get better, we'll make a bucket list and I'll make it happen,'" the impressed mother shared.
"If you live long enough where the doctors can fix you 100 percent, I'll do my best to make your dreams come true," Miller-Berry told Shannie, who didn't have to think twice before deciding on what dream to go after.
After having traveled by plane from Denmark, South Carolina to Cincinnati for medical visits, and befriending many flight attendants and pilots, Shannie developed an interest in working for an airline, as she told her mother.
While Miller-Berry initially believed this to be an unrealistic wish on Shannie's part, she never discouraged her daughter, assuming the mission of trying to make Shannie's dream a reality instead.
After Miller-Berry wrote to a friend that works as a flight attendant for American Airlines to see how she could do something to fulfill Shannie's wish she got much more than she was hoping for.
Miller-Berry received a letter from a pilot of the airline telling her that they were planning to throw a birthday party for Shannie inside of a Boeing jet. The company had a very special surprise in storage for the teenager.
While Shannie is unable to fly on long flights on a regular basis, American Airlines figured that since she still has to travel back and forth to Cincinnati often, she could work with the staff during each of those flights.
"Congratulations, Shannie! We're proud to have her as part of the #fAAmily and are looking forward to sharing the skies with her."
-American Airlines, Twitter, October 16, 2019.
On Shannie's inaugural flight as part of the crew, passengers noticed her and took pictures and videos to make her story known by everybody, turning her into a viral sensation.
Shannie and her mother can't be more happy about this, but Miller-Berry hasn't finished her mission of making every item from her daughter's bucket list come true, and that includes meeting the Obamas and dance with Ellen DeGeneres.
"I'm really in the business right now of fulfilling her bucket list," Miller-Berry said, sharing that she expects Shannie to be officially employed by the airline when she turns 18.
DOWN SYNDROME AWARENESS
Down Syndrome is the most commonly occurring chromosomal condition, with approximately one in every 700 children born in the US presenting the condition, meaning 6000 American babies getting born with it.
People with Down Syndrome have a higher risk of suffering from congenital heart defects and respiratory problems. Since nowadays most of these complications are treatable, most people with the condition lead full and healthy lives.
Every March 21 the world commemorates Down Syndrome Day to raise awareness about this condition and change the narrative surrounding people born with it, with the hopes of further integrate them to society.
Please fill in your e-mail so we can share with you our top stories!