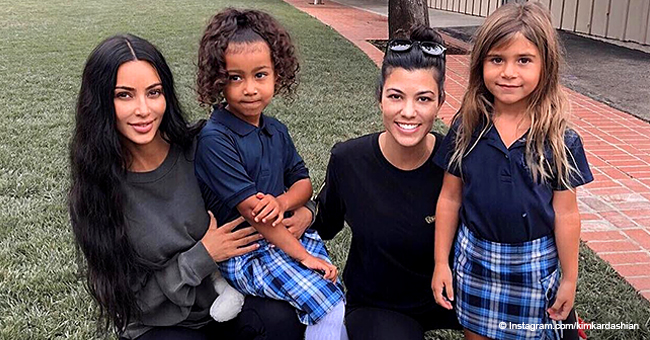 Kourtney Kardashian's Daughter Penelope Turns Heads, Wearing Nearly $400 Gucci Shoes to School
When you're the daughter of a Kardashian sister, there is practically no limit to what you can and cannot wear. That is why it comes with no surprise that Kourtney's daughter Penelope wears Gucci shoes to school that retails for almost $400.
$400 dollars might as well be spare change to the Kardashian-Jenner clan, who have a combined net worth of billions of dollars. That is why it's very easy for their children to wear expensive designer wear to do mundane tasks like going to school.
In a recent back to school photo that Kim shared on Instagram, Penelope showed off her classic chic outfit in a plaid shirt and Gucci Princetown slingback loafers.
Meanwhile, Kim's daughter North could be seen posing in her white Converse high tops that go for much less at the market.
Penelope's Future Wardrobe
Gucci school shoes are the least of Penelope's problems, as in the future, she'll have to deal with trying to take in her mom's designer wardrobe.
In a previous interview, Kourtney revealed that she has been saving her clothes for when her daughter grows up. That includes all the stunning dresses that she's worn to red carpet events.
"I just wore this little black Dolce & Gabbana dress in Italy and I posted a photo — I was with Domenico Dolce — and I saved that dress for her. I was like, 'She needs to have this someday.'"
In fact, it's not just Kourtney that's been saving clothes for the future, even Penelope has been asking for specific pieces that she'd like to wear one day. To Kourtney, whatever's hers is Penelope's.
While Penelope might have a lot to inherit from her mom, Kourtney also makes sure to borrow some stuff from her little daughter.
"She likes to wear my bags a lot and I love mini bags, so I take a lot of her bags too."
Penelope already has her own style, and her proud mother gives her free reign as to what she wants to do with her outfits.
Please fill in your e-mail so we can share with you our top stories!